Jaipur : The corridors of Taxila Business School reverberated with excitement and innovation as the PGDM students of Batch T-28 took on the 'Brand Challenge' in a thrilling three-day event led by the dynamic Professor Lavina Khilnani. This event stands as a testament to the institution's commitment to providing top-quality education through expert faculty and hands-on exposure.
The challenge unfolded in three action-packed days:
*Day 1: Teams Formed and Budgets Allocated*
On the inaugural day, teams were carefully curated, each member bringing their unique strengths to the table. Budgets were allocated, setting the stage for a strategic battle of marketing wits.
*Day 2: Intense Preparation and Product Launch*
With budgets in hand, the teams delved into an intense preparation phase. Marketing strategies were honed, creative ideas took shape, and products were meticulously crafted for launch.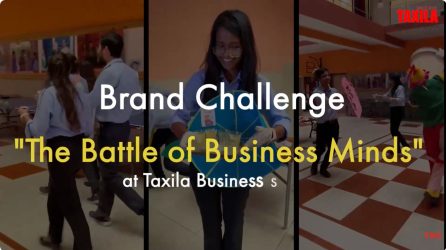 *Day 3: Presentation and Review*
The final day was marked by presentations, where teams showcased their innovative marketing campaigns. Professor Lavina Khilnani and an expert panel reviewed the projects, providing valuable feedback and insights.
The 'Brand Challenge' was not merely a competition; it was an opportunity for students to apply their theoretical knowledge in a real-world scenario. Each team exhibited remarkable marketing prowess and strategic thinking, proving that practical learning is the cornerstone of their education at Taxila Business School.
The event was a true embodiment of Taxila's belief in the power of experiential learning. Students were not only challenged to think critically and creatively but also learned the art of teamwork, time management, and effective presentation skills.
Professor Lavina Khilnani's guidance and mentorship played a pivotal role in shaping this event into a resounding success. Her dynamic approach to teaching and her wealth of industry experience provided students with invaluable insights into the world of marketing.
As the event concluded, it left behind a trail of enriched minds, eager to take on future challenges in the dynamic world of marketing. Taxila Business School remains committed to providing such transformative learning experiences, equipping its students to become the business leaders of tomorrow.