Delteus Solutions Private Limited, operating under the trade name Prism Infoways, stands as a prominent player in the IT services industry. Established by entrepreneur Tarun Sehrawat, who serves as the Managing Director, and with the invaluable contribution of Director Ajay Kumar, the company has carved a niche for itself in the competitive business landscape.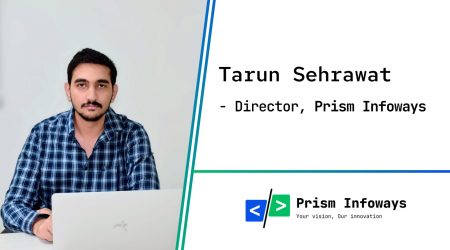 Prism Infoways offers a diverse range of IT services that cater to the evolving needs of businesses in today's digital era. Their service portfolio encompasses web development, mobile app development, penetration testing, and digital marketing. These services are tailored to assist businesses in harnessing the power of technology to achieve their objectives and stay ahead in a rapidly changing marketplace.
One of the key strengths of Prism Infoways is their commitment to delivering quality solutions. They understand that in the digital world, a robust online presence is paramount. To this end, their web development services are designed to create user-friendly and visually appealing websites that not only attract but also engage visitors.
In the mobile app development arena, Prism Infoways excels in crafting cutting-edge applications that meet the specific requirements of their clients. Whether it's a business app, a gaming app, or anything in between, their expertise in this domain is a testament to their capability.
Furthermore, security is a top priority, especially in a world rife with cyber threats. Prism Infoways offers penetration testing services to help organizations identify vulnerabilities and secure their digital assets. This proactive approach to cybersecurity is indispensable in safeguarding sensitive data and maintaining the trust of clients and customers.
In a digital ecosystem driven by data, digital marketing plays a pivotal role. Prism Infoways assists businesses in navigating the complexities of digital marketing, helping them reach their target audience effectively and enhance their online visibility.
The company's dedication to quality services is matched by their physical presence. Their corporate address is Plot No.-CP9, Sector 8 Rd, near Maruti Suzuki Plant, Sector 8, IMT Manesar, Gurugram, Haryana 122051. Located strategically in the industrial hub of Gurugram, this location positions them to serve clients both regionally and nationally.
Prism Infoways' journey, under the leadership of Tarun Sehrawat and Ajay Kumar, is a testament to their commitment to providing innovative and reliable IT services. Their focus on quality, security, and customer satisfaction sets them apart in the competitive IT services sector.
In conclusion, Delteus Solutions Private Limited, operating as Prism Infoways, has emerged as a significant player in the IT services domain. With a comprehensive service offering and a dedication to quality, this company is well-positioned to serve the evolving needs of businesses in the digital age.