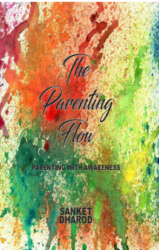 "The Parenting Flow" a recently released book helps parents navigate the challenges of raising children in today's fast-paced world. This book has been written by Sanket Dharod, himself a parent of two inspiring teenage sons.
He shares the intent behind writing the book :
"This book is my humble attempt to share my 'awareness insights' on my short (or long!) journey through my 'parenting flow' so far!
In the midst of all the chaos – feeling lost, confused, dazed, overwhelmed, frustrated; have arisen many a 'aha' moments of insightful contemplation.
It is my hope that some, if not all, of these insights might help to act as 'lamp-posts', on your individual journey, to find your flow as parents or would-be parents!"
As the pace of life continues to accelerate, most parents struggle to keep up with the ever-increasing demands of new-age parenting. Whether it's juggling work, school, financial commitments, or extracurricular activities, the pressure to meet everyone's needs can be overwhelming.
"The Parenting Flow" is designed to help parents find a sense of balance and flow in their parenting journey, making the process less stressful and more enjoyable. The book provides practical, actionable guidelines to navigate through the perplexing maze of parenting.
The book is divided into 6 distinct sections which cover critical aspects of holistic parenting.
The underlying philosophy : The psychological mindset
The environmental setup : People and love
Your one and only incredible child : Celebrate the uniqueness
Holistic upbringing : 360 degrees development
Holy grail of education : Learning and un-learning
Hidden gems of wisdom : Borrowed insights over the years
The book provides practical advice, along with inspiring examples, to help parents find the support and guidance they need to be effective, confident parents.
The lessons are designed to be applicable to all parents, regardless of their child's age range. The author recognizes that the challenges of parenting can change as children grow and develop, but the core principles of effective parenting remain the same.
Whether you have toddlers, young kids or teenagers, the book's practical advice and actionable strategies will help you raise happy children. The author's inclusive approach makes the book a valuable resource for all parents, regardless of their individual circumstances.
"The Parenting Flow" is a comprehensive guide that combines the latest insights on parenting in changing times with the timeless core values that every parent needs to be successful.
The author recognizes that the world is constantly evolving, and parents must be able to adapt to these changes in order to effectively raise their children.
At the same time, the book emphasizes the importance of core values such as love, communication, and consistency, which have remained relevant and essential to effective parenting throughout the ages.
"Parenting is one of the most rewarding experiences a person can have, but it can also be one of the most challenging. This is not a one-size-fits-all, how-to manual for parenting. The book is not prescriptive, but rather a sharing of insights and a proposed paradigm for parenting that emphasizes mutual respect between parent and child." says, Sanket Dharod
About Author, Sanket Dharod
Sanket Dharod is a visionary thinker who believes in creating a harmonious balance in life. He believes in inspiring change and growth in others and considers it his gift to humanity. His passion for holistic child development led him to write "The Parenting Flow," sharing his parenting experiences and insights.
In his second book, "Flow with the Flow," Sanket invites readers to live with awareness and create a beautiful and magnificent life. He views a well-lived life as a harmonious symphony of all life's priorities, bringing balance and beauty to every aspect of life.
"The Parenting Flow" is available now in bookstores and online retailers.
Sanket profile: https://serenestrokes.com/sanket/
Get a copy of the book: https://serenestrokes.com/books/
For more information please visit the website, https://serenestrokes.com/