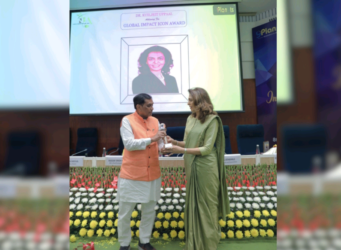 Indian Scientist pioneers the Science of PRIM for global society
Dr. KUILJEIT UPPAAL, the World's First Image Scientist and Karmaveer Chakra Awardee was bestowed with the prestigious honour of 'Global Impact Icon' at the Indian Iconic Awards ceremony at Vigyan Bhawan in Delhi on 8th February, for pioneering the Science of PRIM for global society, and for her outstanding contribution in the world of innovation, education and social impact. The honours were awarded by Shri Faggan Singh Kulaste, Minister of State for Rural Development and Steel of India, MP Kirit Premjibhai Solanki and Dr. E Muthuraman, Chairman of the MSME Promotion Council.
As an international award-winning Impact Strategist and Author, Dr.Kuiljeit Uppaal mentors celebrities, public figures, C-Suite professionals and business owners in PRIM using her scientific models, creations and her signature 'Power Moves'. She has been impacting thousands across the globe over the years through her mentorship and training in becoming incredible versions of themselves.
Her social mission is simple – to use the science of PRIM as a tool to empower the youth and women to be globally employable and create larger impact in life.
Armed with a Doctorate and three Masters Degrees in varied areas, with about three decades of work experience exploring a diverse career path in Aviation Education, Image Management, IT, Advertising and Media, she has been felicitated for her creation of unique training and curriculum methodologies, and her contribution to the creation of a few hundred educational books in Aviation, Personality Development, Customer Service, English Language Skills, Hospitality and Travel & Tourism.
Her keen observation across multiple industries over decades, presented to her a perpetual deficit of confidence, impact and various critical skills in new hires and employees, which apart from hindering their individual job prospects, also affected the quality of their respective organizations as a whole. Inspired, Dr.Kuiljeit Uppaal began what would become years of extensive academic research that concluded in the multi-disciplinary Science of PRIM, or 'Persona and Image Management'. Attributing the identified deficit to gaps in the education system and workforce requirements in modern Indian society, she developed innovative solutions and concepts like D-PRIM, PRIMEA, PRIMPACT Integrated Transformational Model, and PIQ, the world's first ever Persona and Image Quotient. She has been applauded in India and the world over, for her work and volume of contribution in making a powerful difference to the persona and image of individuals and enhancement of life skills.
Dr. Kuiljeit authored 'Prim & Powerful', the world's first ever book in PRIM in line with Aatmanirbhar Bharat Abhiyaan, to help individuals become more confident, self-reliant, powerful and incredible versions of themselves.
She has been honoured with several national and international awards in the world of innovation, education and social impact, including the prestigious Karmaveer Chakra Award by the United Nations and iCongo; World Innovation Award – Hall of Fame Honour 2019; Bharat Gaurav Award 2021; Shiksha Bharati Award 2020; Global Educators & Researchers Empowerment Award 2021; Naari Udyamita Puraskar 2018 by the MSME Ministry & WES; Dr.Sarvapalli Radhakrishnan Award 2020 amongst many others.
She is the National President of the Women's Indian Chamber of Commerce & Industry for Life Skills and the ALL India Chairperson for Image Management. She works towards bringing about policies and creating a robust ecosystem for empowering the youth and women globally. This Impact Strategist has made India proud in her area, apart from being a thought leader and inspirational humanitarian who has been impacting thousands of lives globally on her mission to make a powerful difference to the persona and image of individuals and enhance life skills across the globe.