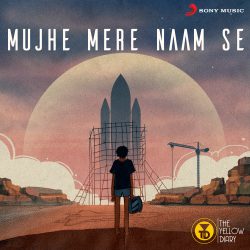 This soothing composition is all set to launch on 21st April 2023 by Sony Music India
Link: https://www.youtube.com/watch?v=axD8FY-q01E
26th April 2023: After a long-awaited wait, The Yellow Diary is back with their new single – Mujhe Mere Naam Se. A 5-member band, The Yellow Diary features Rajan Batra as lyricist and lead vocalist, Himonshu Parikh as music producer, keyboardist, and backing vocalist, Harshvardhan Gadhvi as guitarist, Sahil Shah as drummer, and bass by Stuart D'Cousta. The accompanying animated music video is animated by Hariom Verma released in association with Sony Music India.
'Mujhe Mere Naam Se' is a soulful rendition by The Yellow Diary that inspires one to see dreams and accomplish them with great zeal. The music video depicts a heart-touching story of a young boy who achieves his dreams of flying high in the sky despite all the hardships he faces. Filled with uplifting lyrics, the song sends a message to pivot along the right path, overcoming all obstacles and not giving up.
Talking about the song and the story, The Yellow Diary expressed; "Mujhe Mere Naam Se is a story that most of us can relate to. Keeping our core musical essence in mind which is 'thought-provoking poetry infused with a unique, modern soundscape', this is a personal song in terms of the message it stands for. All of us have been bullied at some point or the other, or have been judged for who we are and the choices that we make. Persevering beyond that and achieving one's dreams is what Mujhe Mere Naam Se is all about. Our animator Hariom has done a fantastic job in adding visuals to our sound, and we hope this song becomes a solace for its listeners."
An Alt-rock music collective, The Yellow Diary is a band that is all about creating captivating melodies and having a positive impact on their listeners. With their soulful sound and resonant lyrics, the band continues to touch the hearts of fans worldwide. Some of the famous hits of the band include Roz Roz which featured at number 5 on Spotify's Indie India: Best Indie songs of 2021, Rab Raakha, Udaan, Marz, and Sajni. 'Mujhe Mere Naam Se' is the latest addition to their discography.
Listen to this melodious treat 'Mujhe Mere Naam Se' here – https://www.youtube.com/watch?v=axD8FY-q01E