Acko is one of the leading general insurance companies based out of Bengaluru. Acko is credited with pioneering digital insurance in the country, a segment that has been registering double-digit growth year after year. Apart from Acko, several other new players have also entered the digital general insurance business. Some of the popular products offered by Acko include third-party and comprehensive bike insurance, car and taxi insurance, health insurance, group medical cover, mobile insurance and appliance insurance.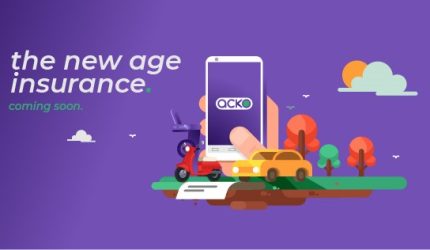 Being a digital general insurance provider, Acko does not have to invest in a large headquarter facility, regional offices, manpower, etc. This helps to reduce operational costs. The benefits are eventually passed on to customers in the form of low insurance rates and charges. With a lean corporate structure, Acko is able to take quick decisions and adapt rapidly in a fast-changing ecosystem.
History
The idea for Acko came to the founders when they noticed the largely cumbersome and opaque processes associated with getting insurance services. Even though other sectors were embracing digitization in a big way, the insurance sector seemed to lag behind. Aiming to provide a seamless experience to users and reduce paperwork to the minimum, Acko was launched in 2016.
Even since it was launched, Acko has registered strong growth every year. It is currently one of the fastest growing insurance companies in India. The company has created world class insurance products, which have been bought by more than 50 million unique customers.
At the time it was launched, Acko had a team of just 6 people. With rapid growth, the manpower has increased to over 400 professionals. To expand its customer case, Acko has partnered with various leading entities such as Amazon, Zomato, Ola, Rapido, RedBus and Oyo.
Funding
Acko has received investments worth $458 million via six rounds of funding. Some of the key investors include Amazon, Catamaran Ventures, Accel Partners, RPS Ventures, Elevation Capital and Mr. Binny Bansal. Acko had acquired unicorn status in October 2021, after its valuation crossed $1.1 billion, post a $225 million funding round.
Acquisitions
Acko has made two acquisitions till date. vLer was acquired in 2019. vLer was an aggregated real time pricing and date driven car buying platform. Second acquisition was Parentlane, done in March 2023. Parentlane is a social parenting platform, which focuses on empowering parents so that they can raise their kids in a healthy manner.
Competitors
Acko competes with both online and offline general insurance providers. With digital insurance providers registering strong growth, even traditional insurance companies have started shifting much of their general insurance services online. In the online realm, Acko rivals the likes of Digit Insurance and Coverfox.
About the founders
Acko was founded by Varun Dua and Ruchi Deepak. Varun has more than 10 years of progressive experience in the insurance industry. Prior to founding Acko, Varun had served as the CEO at Coverfox. He had also worked at GlitterBug Technologies, Franklin Templeton Investments and Tata AIG Life Insurance. Co-founder Ruchi Deepak currently serves as a non-executive director on the board of Acko. She is also the founder and CEO of Airloom.