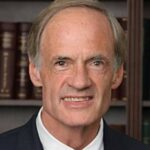 Tom Carper is an American politician, currently serving as the senior United States senator from Delaware. He is a member of the Democratic Party. Carper has held the senator seat from Delaware since 2001. Prior to becoming a senator, Carper had been a member of Unites States House of Representative for the period from 1983 to 1993. From 1993 to 2001, he had served as the governor of Delaware. He was the 71st governor of Delaware.
In 2000 senate election in Delaware, Carper defeated his nearest rival William Roth of Republican Party by a margin of around 39k votes. This was a significant win for Carper, as Roth had held the seat since 1971. Before that too, Delaware senator seat was with Republican Party member John J. Williams from 1947 to 1970. Carper vote share in 2000 election was 55.53%.
In 2006, Carper defeated his nearest rival Jan Ting of Republican Party by a margin of more than 100k votes. His vote share increased to 67.13%. In next election in 2012, Carper defeated Kevin Wade of Republican Party by a margin of around 150k votes. Vote share was slightly low at 66.42%, as compared to 2006 election. In 2018, Carper defeated Rob Arlett of Republican Party by a margin of around 80k votes. Vote share declined to 59.95%.
In the upcoming senator election from Delaware in 2024, it is expected that Carper will retire. In that case, Lisa Blunt Rochester is expected to contest the seat. She currently serves as the U.S. representative for Delaware's at-large congressional district.
Early life and education
Tom Carper was born on January 23, 1947 to Mary Jean and Wallace Richard Carper. He was born in Beckley, West Virginia. He spent his early years in Danville, Virginia and had studied at Whetstone High School in Columbus, Ohio. He later joined Ohio State University, from where he received a degree in economics.
At the university, he joined as a midshipman in the Naval ROTC. He had become a member of Beta Phi Chapter of the Delta Tau Delta fraternity. Later, he joined University of Delaware and completed his MBA in 1975. Carper had served in U.S. Navy as a Naval Flight Officer from 1968 to 1973. He had served during Vietnam War.
Political career
Carper had exposure to the political world when he was at Ohio State University. He had contributed for the presidential campaign of U.S. Senator Eugene McCarthy. Later, he contested for the Delaware State Treasurer position and won. He served in that position from 1977 to 1983. Subsequently, Carper contested and won in U.S. House of Representatives election from Delaware. He served five terms in that position. In 1993, Carper became the Governor of Delaware.
Personal pursuits
Tom Carper remains committed to work in the interest of Delaware and its people.