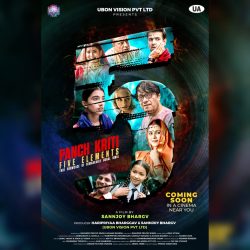 The makers of Panch Kriti: Five Elements, Ubon Vision Pvt Ltd, unveiled the official poster of the film in the presence of the cast and crew members. This anthology social drama, set in the small town of Chanderi in the Bundelkhand region, features renowned actors Brijendra Kala, Purva Parag, and Umesh Bajpai in principal roles.
The poster of the film is visually captivating, giving audiences a glimpse into the genre and the essence of the film. It brings together five different stories, connected by a common thread. Panch Kriti: Five Elements promises a powerful cinematic experience while also delivering rich content. Directed by Sannjoy Bhargav and produced by Haripriyaa Bharggav, the film is mounted on a grand scale.
Speaking about the poster launch, director Sannjoy Bhargav expressed his excitement, stating, "The unveiling of the poster is a significant moment for us. It showcases a glimpse of our film to the world and symbolizes the realization of our dream in bringing these stories to life. The poster captures the essence of the film and sets the tone for a remarkable storytelling experience."
The film's stories, set in Chanderi and filmed in real locations, highlight the challenges faced by women in rural India. Panch Kriti: Five Elements provides a unique cinematic experience by intertwining the five stories with a common theme. Despite dealing with important social issues, the film is suitable for all age groups, making it a family-friendly endeavor.
To create buzz and generate awareness for the film, the makers have implemented an exciting strategy. Moviegoers will have the opportunity to win attractive prizes such as smart TVs, smartphones, smartwatches, cycles, and home theatre systems. With a wide release planned across India, Panch Kriti: Five Elements will soon hit theaters, aiming to captivate audiences nationwide.