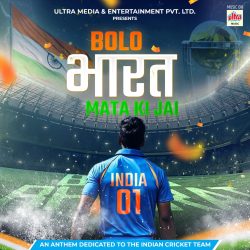 National: The anthem aims to infuse immense enthusiasm among Indian cricket lovers & citizens. It is available in Hindi in both video & audio formats. This anthem is to invigorate the spirits of every Indian & instil a sense of excitement & pride in our Indian Cricket team
The anthem showcases the Cricket fever in India in its complete frenzy. It has crowds cheering & praying for their team, fans hysteria in the stadium, Players celebrating each other & many more enchanting moments. The motivating lyrics for this anthem are penned by Deepak Chauhan & the resounding music has been composed by the dynamic duo Neel & Nataraj. Neel is also the lead vocalist for the same.
The music video is streamed on Ultra Music You Tube channel and is also simultaneously streamed on : Gaana, Spotify, JioSaavn, Amazon Music, iTunes, Wynk Music & other leading music streaming platforms
This anthem of Pride & Glory is an ode to our nation. It's a call for unity & a reminder of the unified strength that lies in our diversity. It will resonate deeply with every Indian & invigorate their love & trust in our Indian Cricketers & fuel the sportsman spirit of our Indian cricket team as they embark on their journey to conquer the world.
This Anthem also goes beyond the boundaries of the cricket pitch, it infuses an unparalleled sense of excitement and can be proudly watched & played on any patriotic events & celebrations. All thanks to the energy and positivity it exudes.
Mr Rajat Agrawal, Director, Ultra Media and Entertainment Group said: "India has performed phenomenally both in Cricket & Asian games recently. We all are just waiting for them to bring in the most coveted title in International Cricket & close this year with a bang. "Bolo Bharat Maata Ki Jai" is a drive to awaken every Indian to the promise that lies in our cricketers & give them the needed boost to put India on the world map & bring in the biggest accolades to our nation in this World Cup"