As revealed in ongoing Russia-Ukraine war, drones have come to play a decisive role. Conventional land-based battle equipment such as tanks, artillery guns, radar stations, etc. have proved to be sitting ducks when faced with drones. Even a wide variety of battleships have become vulnerable to drone attacks. Depending on their size, drones can be hard to detect and difficult to shoot down by either ground-to-air or air-to-air missiles.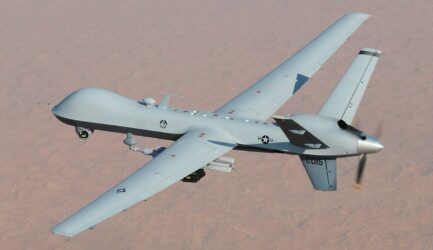 It is quite clear that drones will be playing an important role in warfare in the future as well. It explains why many of the top countries are now prioritizing their drone development projects. It makes us wonder which country has the deadliest drone in the world. Who is ahead in the game and which is the deadliest drone in the world. Here's a look at some of the deadliest drones in the world.
Kronshtadt Orion
Manufactured by Kronstadt Group, Kronshtadt Orion is in service with Russian Ground Forces. It has payload capacity of 550 lb. (250 kg) and range of 890 miles (1,440 km). It can fly at altitudes of up to 24,600 ft. (7,500 meters). Kronshtadt Orion can primarily carry laser-guided anti-tank missiles.
Qods Mohajer-6
Manufactured by Qods Aviation Industry Company, the Mohajer-6 is a multirole drone in use by Iranian armed forces. It can carry payload of up to 150 kg and has flying range of up to 2,400 km. It can fly at altitudes of 16,000-18,000 feet. Qods Mohajer-6 can carry guided missiles as well as a wide variety of surveillance equipment.
Bayraktar TB2
A medium-altitude drone, Bayraktar TB2 is manufactured by Baykar Makina Sanayi ve Ticaret A.Ş. Bayraktar TB2 is primarily meant to be used by the Turkish Armed Forces. However, Bayraktar TB2 has proved its mettle in various other war zones. Most notably in ongoing Russia-Ukraine conflict.
Bayraktar TB2 can carry payload of 150 kg and has range of 2,160 miles (4,000 km). It can fly at altitudes of up to 7,620 meter (25,000 ft.). It can carry a variety of weapons such as laser guided smart bombs, long range anti-tank missile systems, laser guided rockets and GPS/INS guided 81 mm mortars.
Hongdu GJ-11
Developed and manufactured by Hongdu Aviation Industry Group, Hongdu GJ-11 is in service with the People's Liberation Army Air Force of China. This drone has stealth capabilities and will be hard to detect by the radar. Hongdu GJ-11 has two enclosed bays for storing weapons. It has capabilities to deploy air-launched swarm decoys, engage in electronic warfare and launch precision-guided munitions. Hongdu GJ-11 can carry up to 4,400 lb. (2,000 kg) of weapons.
MQ-9 Reaper
Developed by General Atomics Aeronautical Systems, MQ-9 Reaper is in service with the United States Air Force. It is also being used by other countries such as Italy and the United Kingdom. MQ-9 Reaper, also referred to as Predator B, is considered as the deadliest drone in the world.
MQ-9 Reaper has immense capabilities such as payload carrying capacity of 3,800 lb. (1,700 kg), long range of 1,200 miles (1,900 km) and high-flying altitude of 50,000 ft (15,420 m). MQ-9 Reaper can target a wide variety of surface objects. In future, MQ-9 Reaper could get air-to-air missile launch capabilities.