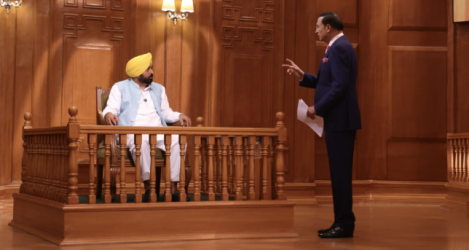 NEW DELHI, June 18: Punjab chief minister Bhagwant Mann has warned his partymen not to indulge in corruption. "I won't spare anybody, not even my close relative, if he is found indulging in corruption", he said.
He was replying to questions from Rajat Sharma in 'Aap Ki Adalat' show, to be telecast tonight at 10 pm on India TV. He was asked why AAP MLAs and ministers fear him, because nobody can predict when Mann will sack whom.
Mann replied: "..And also, nobody knows who will be made a minister. This is good. Everybody must have aspiration to become a minister. And if anybody commits wrong, even if he is my close relative, he will be punished. I have already said, 15 months have passed, even if I took one rupee or misappropriated one rupee of public money, it will be equivalent to taking one tablet of sulfa (poison). Nobody can give a guarantee more than this in today's age."
It may be recalled that in August last year, Mann had sacked Health Minister Vijay Singla following complaints of corruption, while in February this year, AAP MLA Amit Rattan Kotfatta was arrested by Vigilance Bureau on charges of corruption.
Rajat Sharma: Is this a tradition in Punjab not to nail those in the family, whether it is Badal or Amarinder's family?
Mann: "Exactly, this is the sad part. First we sacked our Health Minister, then one of our MLAs was sacked. If we catch others for corruption, we have to clean up our house too. Our election symbol is 'broom', cleaning up is a must. The broom will be used wherever clean-up is required. I have a single agenda: not to allow misuse of public money, even if it was done 10 years ago, or 15 years ago. Main uska hisaab loonga. We caught a former Congress minister (Sundar Sham Arora). A currency counting machine was recovered from his home. The huge luxury house was made with costly marble and had spacious rooms. Why was a counting machine there? It is normally used in banks. It means, they used to get cash daily, and they needed a counting machine to count the cash. Itna loot ke le jaogey kahan? He built a huge house, and where is he staying now? Inside a cell in jail."
REMOTE CONTROL
Asked about Congress charge that his government in Punjab is being run through remote control by AAP chief Arvind Kejriwal, Bhagwant Mann replied: "Who says?"
Rajat Sharma: "Rahul Gandhi".
Mann: Then who runs Rahul Gandhi's party in Punjab? Is Rahul Gandhi from Moga, or Bhatinda? Ours is a national party, our party head office is in Delhi. So the decisions are taken here (Delhi) and the executive meets here.
Rajat Sharma: No, Rahul was saying, I respect Bhagwant Mann, but he should ensure that his government is not run by remote control?
Mann: "Let Rahul Gandhi Ji run his own party first. In the national capital, the oldest national party Congress had how many MLAs since 2015? Zero. How many MPs? Zero. How many Rajya Sabha members? Zero. Even in the locality where Rahul Gandhi, Sonia Gandhi stay, where all Congress, BJP leaders have their homes, who is the MLA? Arvind Kejriwal. What does it mean? Even Rahul Gandhi's servants and gardeners vote for us. Please tell him, to run his own party first."
PUNJAB GOVT ADS IN GUJARAT
Rajat Sharma asked why his government's advertisements are being published in Gujarat. The Punjab CM had an interesting reply.
Mann: "So that people in Gujarat can see the good work that we are doing in Punjab. So that they can ask their own government, why this is not done here. Hum toh aise hi batayenge, Sir."
Rajat Sharma: Look, when pictures of Badal saheb or Amarinder Singh used to be published, you used to say, public money is being squandered. Now we find Bhagwant Mann's pictures even outside Aam Aadmi clinics?
Mann: "If we are doing some good work, it has to reach the public. Everybody does not have WhatsApp. We have to reach our message to the villages…. My pictures are there where even your cameras cannot reach. This picture is in the hearts of people, in the crowds, in their faces. Sir, pyaar karte hain log aaj ke zamaane mein. My turban gets covered up with flower petals. Inside my car, we have to push aside the flower petals for others to sit. Mothers put their hands on my head and bless me. My sisters bless me. Young men put their hands on my shoulder to take a selfie. Sometimes I think, whether I did some good work in my past life that I am getting so much affection. There are politicians in other parties, if you shake hands once with them, you have to count your fingers, whether they are all intact."
Rajat Sharma: They say, running a stage is one thing, running a state is different?
Mann: "I am running a state. Ask them to run a stage. We gave 29,237 government jobs, opened 582 Aam Aadmi Clinis, 80 more being readied, Schools of Eminence are ready. On August 15, we will open 15 Schools of Eminence. We are giving electricity free to 80 to 88 per cent homes. Send anybody to Punjab, 200 km from here (Delhi) to find the truth."
MOOSEWALA MURDER
On popular singer Sidhu Moosewala's murder, the Punjab chief minister replied: "Moosewala was like my younger brother. He was an artiste, a big one. He had even crossed the language barrier. The day that incident happened, there were two gunmen at his home, whom he did not take with him. He had a specially made bulletproof vehicle, which he did not take. The reason is not only this. Every death is sad for us. We arrested 29 gangsters, three were killed in encounter, nearly 3,000 page chargesheet was filed. On our part, we are not trying to protect anybody who provide political asylum (patronage) to gangsters. We are with the people of Punjab. Who patronized the killers? They belonged to other parties. Now those mafias are no more. All the mafias are gone, sand mafia, land mafia, transport mafia. Everything is over. That's why they shower abuses at me, because I don't have to earn money from them."
On the withdrawal of security given to 122 MLAs and ministers, including ex-MLAs, Bhagwant Mann said: "They take security guards but do not take security work from them. There are many in Punjab Police, we are still searching for them, who used to rear poultry, do housekeeping, were dropping children to schools, in the name of security. After all, what risk do they have? If you are a Janata Ke Sewak, then go to the janata."
ALCOHOLISM
On controversies relating to his alcoholic tendencies, the Punjab Chief Minister hit out at his critics saying if he had been imbibing alcohol day and night, he would not have been alive.
Rajat Sharma: Sukhbir Badal said, Bhagwant Mann imbibes so much alcohol, that he remains missing for seven days in a stretch?
Mann: For the last 12 years they have been saying Bhagwant Mann always remains 'tully' (drunk) day and now. Tell me, if any man drinks alcohol day and night for 12 years, will he remain alive? No? Then, do I have a liver made of iron? When they have no allegation to make against me, they say such things. I wake up at 6 in the morning and call for the first file."
'Aap Ki Adalat' with Punjab Chief Minister Bhagwant Mann will be telecast tonight at 10 pm on India TV.