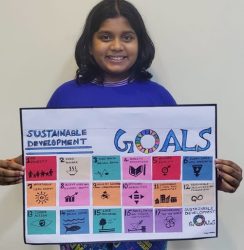 Manya Harsha, a remarkable thirteen-year-old student at Golden Bee with Vibgyor High School in Bengaluru, India, has just been honoured with the 2023 International Young Eco-Hero Award by Action For Nature. This accolade, bestowed upon her alongside sixteen other young environmental activists from around the world, celebrates her impactful efforts in the realm of environmental conservation.
At the heart of this recognition lies Manya Harsha's deep commitment to tackling environmental challenges. The award spotlights the exceptional work of individuals aged 8 to 16 who actively contribute to solving pressing environmental issues. Manya's story stands out for her unwavering dedication to sustainability.
Manya Harsha earned this award for her ingenious project, SUNSHINE. This project highlights her innovative creation of DIY VEGETABLE PAPER, a green solution that repurposes kitchen waste into useful paper. Her passion for environmentalism and her dynamic participation in this field have made her a true inspiration, particularly among her peers.
As a young author, climate activist, recycler, and the editor of the children's journal Sunshine Fortnightly, Manya Harsha's ambition is to combat climate change. She's on a mission to spread awareness through her engaging kids' journal and nature-themed books, aiming to educate and inspire millions.
Her environmental initiatives are wide-ranging. From recycling packaging wrappers into DIY pencils to producing colourful vegetable peel paper and even crafting denim paper from old jeans, Manya's creativity knows no bounds. She has already manufactured 200 sheets of vibrant vegetable peel paper, showcasing her dedication to sustainable practices. Manya's impact extends beyond crafting – she's hosted multiple workshops to teach others these innovative paper-making skills.
In a pivotal move, Manya initiated Sunshine during the lockdown in 2020. This digital and print journal, designed entirely by a kid for kids, serves as a conduit for raising environmental awareness. Distributed free of charge to schools and Montessoris in Bangalore, Sunshine fosters an eco-friendly ethos through various activities, such as the "Each One Plant One" campaign and workshops on paper-making.
When asked about the award, Manya humbly remarked, "For me, an award signifies recognition of my efforts and provides the motivation to continue on the path of sustainability."
With a conviction in action over words, Manya's journey started at a young age, planting her first sapling at just four years old, guided by her late grandmother, V Rudramma. This upbringing instilled in her a profound respect for nature and a sense of harmony with all living beings. Manya's commitment has already led her to distribute 7000 saplings, 8000+ sustainable bags, plant 4600 saplings, and sow over 5000 seed bombs. She's also orchestrated numerous cleanups in water bodies, forests, highways, and city roads.
Beyond her remarkable accomplishments, Manya's influence spans her YouTube channel, where she shares educational videos on youth-driven environmental initiatives, water conservation, and climate action. These efforts contribute to her overarching goal of raising global awareness and motivating young people to champion nature and wildlife.
The esteemed International Young Eco-Hero Award winners are chosen by a panel of independent judges versed in environmental science, biology, and education. In the past two decades, Action For Nature has recognized 339 Eco-Heroes from 27 countries and 32 American states.
In the words of Beryl Kay, President of Action for Nature, "This year's young climate champions, including Manya Harsha, are proving unequivocally that the next generation of leaders has emerged, ready to confront the climate crisis with global impact."