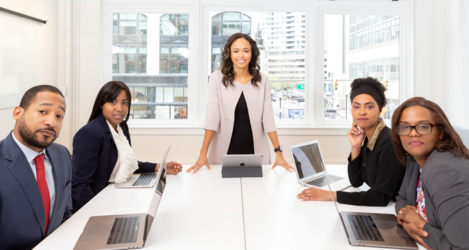 If you want to know what makes a successful sales team tick, look to its leaders. Sales executives set the tone for how their departments will perform, anda team that consistently exceeds its quotas probably has a capable and driven leader working behind the scenes to identifytalent, encourage passion, and get results.
This is something the top executive recruiting firms have always known — executive recruiters build winning teams by using sophisticated tools to analyze a candidate's competencies, temperament, and aptitude, because they understand that true leadership isn't just about charisma. The best leaders create an environment where everyone wants to succeed.
Usually, they are able to do this because they can combine these five essential leadership qualities:
1. A Commitment to Results
No one cares how hard a sales team is working if they aren't putting numbers up on the board, and good executives stay focussed on the end goal: closing sales and building the brand.
2. Willingness to Lead by Example
Sales is a tough industry, and sales people suffer from high rates of burnout. One of the biggest problems any sales leader faces is keeping their people motivated during through the hard times.
In addition to exhorting their people to meet quotas and stay on task, a sales executive should also be able to demonstrate the viability of the goal through their own performance. Workers will follow a leader who proves that what they're doing isn't impossible.
3. Alignment with Company Values
Every company wants to hire talent that cares about and identifies with its mission, but this is especially important when it comes to leadership.
Not only do sales executives need to be personally invested in the core values of the organization they work for, they also play an important role in communicating those values to their departments and making them part of daily operations.
4. Excellent People Skills
It goes without saying that sales is a people-oriented profession, and someone who wants to lead salespeople needs have sterling interpersonal skills.
But people skills aren't just about knowing how to get along with others. A sensitive leader can also identify underlying tensions in the workplace and trying to build a harmonious, respectful environment.
5. Diligence and Dedication
We tend to associate good leadership with brilliance — with strong personalities, bold ideas, and the ability to give a rousing speech. But during the daily grind of building a company, brilliance is not always what you want in an executive. A good work ethic, the ability to keep things moving forward day-in and day-out, are often what make the biggest difference in the long run.
No matter how strong your sales team is, without effective leadership it will be difficult to consistently meet goals and exceed expectations.
If your company is looking to hire a VP of Sales, Director of Sales, or Chief Sales Officer, you'll want to find a candidate who has the right balance of skill, acumen, and drive to keep your sales department on task. Working with executive recruiters to identify the perfect person for the job will not only ensure you meet your goals for the coming year, but will also lay the foundation for continued growth in the future.