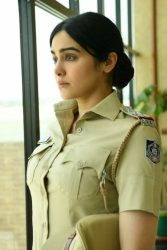 Adah Sharma was seen in police uniform on the sets of Commando 4. Adah is a part of the Commando series and was seen on set donning the khaki uniform. Parts of Commando 4 are being shot in Mumbai and actress is seen performing action scenes on the sets. A few days ago Adah shared her Instagram picture where she had bruises on her hands. This means that just like her action scenes in Commando 2 and 3 she will once again be seen in action mode.
Adah Sharma says that, playing a woman in uniform has always fascinated her. An interesting video of Adah has been surfaced on internet where she spotted eating banana as she is on a ' banana diet'
Adah who has been pure vegetarian all her life said " bananas are rich in potassium, good for the hair and skin, great for digestion. Bananas release a mood regulating substance called tryptophan which is converted to serotonin in the brain. It elevates the mood and makes you happy.
I'm very inspired by monkeys and gorillas . They eat bananas and seem so fun and energetic."
The actress got an opportunity to essay a police officer in the Commando franchise "You feel a sense of responsibility when you wear the police uniform for a role," says Adah, " i will be playing Bhavana Reddy again. Same character double the Masti double the Action. Bhavana Reddy will have her brand of sarcastic humour too.
The first three films of the Commando series have created their own fan base and this is the reason why the work on the fourth film is going on. Adah will next be seen in Hindi film 'The Kerala Story' based on true events