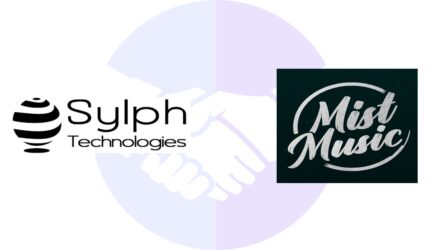 New Delhi, India – BSE listed company Sylph Technologies Ltd, the leading Technologies Ltd Company in India, is pleased to announce that it has acquired a significant order worth 35.75 crores from Mist Music. The order includes state-of-the-art video-making equipment and Technologies Ltd that will aid Mist Music in elevating its video production capabilities.
Sylph Technologies Ltd is listed in BSE .Now entering in entertainment industry, Thursday 2nd Feb they announce received an order of 220 music video production which total amount is 35.75 cr from Mist Music pvt ltd.
"We are thrilled to have received this order from Mist Music. This partnership is a testament to our commitment to providing top-quality software solutions and services," said Rajesh Jain, CEO of Sylph Technologies. "This order will bring a significant financial boost to Sylph Technologies Ltd and open doors for new opportunities in the video-making industry."
"We are excited about this partnership with Sylph Technologies Ltd and are confident that their state-of-the-art Technologies Ltd will help us take our video production capabilities to the next level," said Anshu Mishra, CEO of Mist Music.
Sylph Technologies Ltd is a leading software Technologies Ltd company in India, providing a range of software development services and solutions. With a focus on innovation and customer satisfaction, Sylph Technologies Ltd has established itself as a leader in the Technologies Ltd sector.
Mist Music is a leading provider of video production services, offering a range of video production and post-production services to clients across the globe. With a commitment to quality and innovation, Mist Music has established itself as a leader in the video-making industry.
The advanced Technologies Ltd and equipment supplied by Sylph Technologies Ltd will assist Mist Music in producing high-quality and visually stunning videos that meet the demands of its clients. The marriage of Sylph with Mist Music is a substantial step for Sylph Technologies Ltd as they continue to expand its footprint and make its mark in the Technologies Ltd sector.
Sylph Technologies Ltd provides a range of software development services and solutions, including outsourcing software development, web development, product development, strategy consulting, offshore software development, and e-commerce for web and mobile enablement.
Sylph Technologies, a premier software development company, has made a name for itself in various industries including retail, mobile, manufacturing, education, travel, and transportation. As a trusted development partner and solution provider, Sylph has contributed to the success of numerous businesses through its high-quality and cost-effective web and e-commerce solutions.
With a global clientele, Sylph prides itself on delivering results-oriented solutions within tight deadlines. The company's highly skilled consultants, designers, content writers, programmers, and web marketing professionals are dedicated to providing personalized services and maximizing clients' return on investment.
Sylph leverages professionalism, skill, and expertise to make the web work for clients' businesses, and has established itself as a leader in the Technologies Ltd sector. By treating each client as unique, it ensures that its solutions are tailored to meet their specific needs and goals.