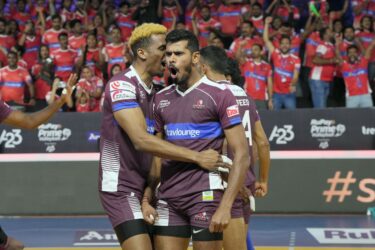 ~ Calicut Heroes beat Kolkata Thunderbolts in RuPay Prime Volleyball League ~
Hyderabad, 16th February 2023: Calicut Heroes stunned the defending champions Kolkata Thunderbolts in the second season of RuPay Prime Volleyball League powered by A23, picking a 15-14, 7-15, 15-11, 13-15, 15-13 win at the Gachibowli Indoor Stadium in Hyderabad on Thursday. Jerome Vinith was named the Player of the Match as Calicut completed a hat-trick of wins.
A triple-man block led by Jerome provided Calicut Heroes the early advantage. With Jose Antonio Sandoval's threat looming, Kolkata skipper Ashwal Rai needed to be alert. Targetting Cody Caldwell from the service line, Calicut tried to prevent the Thunderbolts' attacker to get a say. Spreading the game wide, Jerome closed out Kolkata's attacks and Calicut took control.
With Rahul's magic from the service line, Ashwal and Vinit started making more impact. Calicut skipper Matt Hilling appeared puzzled and the defending champions found a way back into the match.
Kolkata started targetting Jerome with serves to keep the game wide, but it led to a few serve errors from the Thunderbolts. Mohan Ukkrapandian's passes and Jerome's attacking ensured Calicut remain in the contest.
As things began to get heated, Rahul began combining with setter Hariharan to begin the Thunderbolts' resistance. Mohan became an integral key to Calicut's formula and he continued to set up Jerome for spikes. But Vinit's fiery serves allowed Cody to get a say from the middle and the topsy-turvy battle went right down to the wire.
The game of fine margins eventually turned into a battle between Rahul's attacks and Ashwin's blocks. Hariharan started setting up Ashwal for spikes. But with powerful serves, Jerome turned the tables once again in the final minute of the match to help his team get a sensational win.
Ahmedabad Defenders will be up against Mumbai Meteors and Bengaluru Torpedoes will be up against Kochi Blue Spikers at the Gachibowli Indoor Stadium on the third day of the Hyderabad leg of the RuPay Prime Volleyball League from 1900 hrs onwards IST on Friday, 17th February 2023