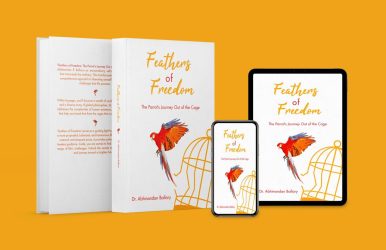 In a remarkable literary accomplishment, Dr. Abhinandan R. Ballary, a highly respected author and authority in the field, has introduced his latest masterpiece, 'Feathers of Freedom: The Parrot's Journey Out of the Cage.' This transformative guide provides readers with a comprehensive approach to free themselves from life's challenges.
Drawing from insights found in the Vedas and a diverse spectrum of global philosophies, Dr. Ballary skillfully navigates the intricacies of human existence, offering profound wisdom and guidance for individuals in pursuit of a more purposeful, balanced, and harmonious life. With meticulous research and eloquent prose, the book holds the promise of unlocking the secrets to enduring fulfillment.
'Feathers of Freedom' is poised to be a guiding beacon for those embarking on a quest for personal growth and a brighter future. It is already generating significant anticipation in the realm of literature designed to inspire personal development, with readers enthusiastic to commence their transformative journeys.
Readers can now access 'Feathers of Freedom: The Parrot's Journey Out of the Cage' by Dr. Abhinandan R. Ballary in both physical bookstores and online retail platforms. This is an opportunity not to be missed for those seeking the keys to a more enriched and fulfilling life.