Dr. Thejo Kumari Amudala's Business Triumphs and Philanthropic Endeavors Shine Bright
30th October 2023, Mumbai: Dr. Thejo Kumari Amudala stands out not only as a successful entrepreneur but also as a dedicated social activist. She is the force behind Thejas Business Solutions Pvt. Ltd. and Anzellic IT Solutions Pvt. Ltd. However, what truly highlights her distinctiveness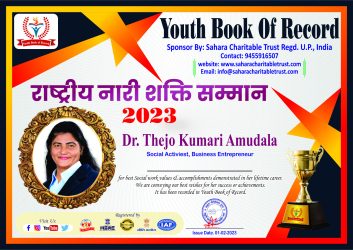 is her unwavering dedication to societal causes.
Recent Prestigious Recognition
Recently, her exceptional contributions to society earned her the respected 'Rashtriya Nari Shakti Samman' Award and earned place in Youth Book! Of Records. This award adds another feather to her cap, which is already filled with remarkable achievements.
Roots in Tirupati, Andhra Pradesh
Born in 1980 in Tirupati, Dr. Thejo Kumari Amudala's journey is a testament to determination and perseverance. Brought up by her parents, Amudala Muni Venkateshwarlu and Kinnera Prameela Devi, she imbibed strong values that laid the foundation for her future pursuits. Her academic excellence is evident with her achievements, including attending the elite Harvard Management School.
The Beginning of a Business Empire
2002 saw the establishment of Thejas Group, marking her entry into the entrepreneurial world. With Theja Business Solutions Pvt. Ltd. and Anzellic IT Solutions Pvt. Ltd. under her belt, her success skyrocketed. But even amidst her business accomplishments, her heart stayed close to charity and social service.
Champion for the Underprivileged
Despite her immense success, Dr. Amudala has always given back. Her charitable activities touch numerous lives. She is a beacon of hope for underprivileged families, advocates passionately for women's rights, and is at the forefront of championing quality education in India.
A Glimpse of Her Awards and Accolades
Dr. Thejo Kumari Amudala is Taj Mrs Universe 2021 Winner. Her illustrious journey has been adorned with numerous awards such as , the Nelson Mandela Noble Peace Award, Bhartiya Nari Samman Award, and many others. Each award is a testimony to her passion, dedication, and her uncanny ability to inspire and make a difference.