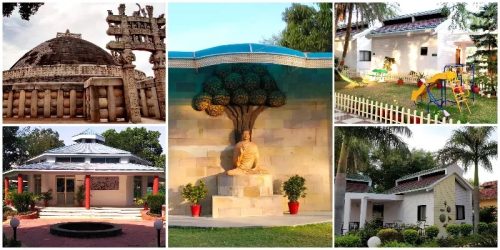 The heart of India, Madhya Pradesh offers an abundance of natural beauty, rich history, and cultural wonders. This diverse state has earned its reputation as a favoured destination among tourists. One of the key factors contributing to its allure is its exceptional transport connectivity. In this article, we will explore why Madhya Pradesh stands out as a state with unmatched convenience for tourists, owing to its remarkable transport infrastructure.
Extensive Road Network:
Madhya Pradesh boasts an expansive road network that seamlessly connects major cities, towns, and popular tourist attractions. The well-maintained National Highways and State Highways make traveling within the state a breeze. The central location of Madhya Pradesh serves as a transit hub, linking different regions of the country and facilitating easy access to the state.
Some of the best routes for road trips in Madhya Pradesh are:
Pachmarhi to Bhopal: Approximately 210 km
Indore to Mandu: Approximately 95 km
Khajuraho to Orchha: Approximately 175 km
Jabalpur to Kanha National Park: Approximately 165 km
Bhopal to Sanchi: Approximately 50 km
Efficient Rail Network:
The state of Madhya Pradesh benefits from a robust railway network, ensuring convenient connectivity for tourists from various parts of India. With multiple railway stations, including prominent junctions like Bhopal, Indore, Gwalior, and Jabalpur, travellers can easily reach the state by train. These stations offer connections to major cities such as Delhi, Mumbai, Kolkata, and Chennai, further enhancing accessibility.
In addition to its efficient rail network, Madhya Pradesh entices tourists with its unique destinations. Visitors can explore the sacred Jyotirlingas, such as the Mahakaleshwar Jyotirlinga in Ujjain, for a spiritual experience. The state is also home to UNESCO World Heritage Sites like the Sanchi Stupa, Bhimbetka rock shelters and the temples of Khajuraho, showcasing the rich cultural heritage of India. Adventure enthusiasts can indulge in thrilling experiences at destinations like Pachmarhi, known for its trekking trails, and Bandhavgarh National Park, renowned for its tiger population. Madhya Pradesh offers a diverse range of experiences, making it an enticing destination for travellers.
Air Connectivity:
Madhya Pradesh boasts excellent air connectivity through strategically located domestic and international airports. The Raja Bhoj International Airport in the capital city of Bhopal, the Devi Ahilya Bai Holkar Airport in Indore, and the Gwalior Airport in Gwalior serve as primary gateways for air travellers. These airports are well-connected to major cities across India, with regular flights operated by various domestic airlines. Additionally, the Khajuraho Airport in Khajuraho and the Jabalpur Airport in Jabalpur provide additional air connectivity options for tourists visiting these popular destinations.
With direct connectivity from Delhi and Mumbai, travellers can easily reach Madhya Pradesh from these major cities, and these routes also serve as convenient one-stop solutions for reaching other cities within the state. The air travel infrastructure in Madhya Pradesh ensures that visitors can access both the well-known tourist attractions and the remote destinations with ease.
Intra-State Transport Options:
Madhya Pradesh has established an efficient intra-state transport network to cater to the needs of tourists. State-run buses, luxury coaches, and private taxis ply regularly on various routes, seamlessly connecting popular tourist destinations. Travelers can explore the state's cultural, historical, and natural wonders without encountering any transportation challenges.
Specialized Tourist Infrastructure:
Recognizing the significance of tourism, Madhya Pradesh has invested significantly in specialized tourist infrastructure. Many popular tourist spots, including national parks, heritage sites, and religious centres, have well-developed transportation facilities within their premises. These initiatives ensure that tourists can conveniently navigate and fully immerse themselves in the beauty and history of Madhya Pradesh.
Madhya Pradesh stands out as an exemplary state with unparalleled transport connectivity, offering tourists unmatched convenience during their visit. The extensive road network, efficient rail connections, well-connected airports, and intra-state transport options have transformed exploring Madhya Pradesh into a seamless and memorable experience. By investing in specialized tourist infrastructure, the state has solidified its position as an ideal destination for travellers seeking hassle-free and enriching journeys.