Dentistry can be a great career opportunity, as it has multiple benefits. For example, you can launch your own private practice to be your own boss. You can choose your own work timings. Dentistry is relatively simpler as compared to other medical streams. This means you do not have to deal with things like emergency situations or extra-long, complicated and high-risk procedures.
Dentistry is quite satisfying as well, as you get to help people in maintaining their smiles and self-esteem. From a monetary perspective also, dentistry is quite rewarding. Median earning of dentists in United States is more than $170,000.
If you are looking to pursue this career, you probably want to know how to become a dentist. Below are some key things that will help you get started on the right track.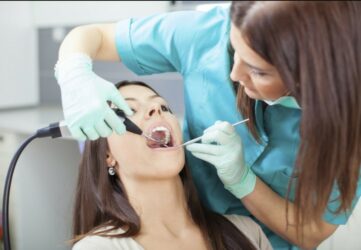 Eligibility requirement for becoming a dentist
Eligibility requirements may vary based on the dental school. Majoring in science is usually not mandatory. However, it is necessary to complete predental science requirements. At least 4 years in college education is preferred before applying for dental school. A college undergraduate degree will be beneficial for those pursuing dentistry. Some requirements that are usually common across dental schools include 8 hours each in biology with lab, english, physics, general chemistry with lab and organic chemistry with lab.
Dental Admission Test (DAT)
You can take this test around a year earlier to applying for dental school. The test evaluates various parameters such as perceptual ability, comprehension of scientific info and general academic ability.
Apply to a dental school
You can apply to any of the dental schools accredited by the ADA's Commission on Dental Accreditation (CODA). Usually, DDS/DMD courses will take four years. An additional year goes into any dental specialties you may choose such as Pediatric Dentistry, Oral and Maxillofacial Surgery, etc.
Admission committee will thoroughly assess your qualifications, DAT score, grade point average (GPA), any prior experience in a dental office, personal interviews, and letters of recommendation.
Keep in mind that admissions to dental school is quite competitive. You have to give it your 100% to get in.
Take a loan
Studying at a dental school can be quite costly. It is estimated that more that 90% of dentistry students have to take a loan to fund their education. You can compare different loan plans and choose the one that offers the best value.
Becoming a dentist does not necessary mean that you have to keep tinkering with people's teeth and gums. Although most dentists choose private practice, there are other career options that you can consider after completing your dentistry education. For example, you can pursue a career in academic dentistry where you will focus on teaching. Similarly, you can also choose other fields such as research and influencer roles. The choice is yours based on what you like doing most.