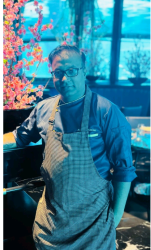 Indian chef Anuj Sarkar puts the torch on the different ways of making a traditional dish globally accepted as he becomes a favourite chef amongst the Brits.
Head chef Mr Anuj is becoming recognized amongst the crowd as he left everyone hooked with the tempting taste of his dishes. Born in the city of Nawabs, Lucknow, Uttar Pradesh, Anuj Sarkar had made the path of easily making any dish accepted globally by the new bees.
For the Head Chef, Anuj Sarkar, each dish possesses its essence, and similarly, each culture got its moulds. Customization is necessary to make any dish accepted, but without destroying its essence, to make it a vogue.
Working in one of the cities on the Anatolian Peninsula in Western Asia, Head Chef clarified: "Customization solely makes traditional dishes accepted as people of different cultures are accustomed to different kinds of flavours".
While elaborating on the famous theory of Indian cuisine, Anuj Sarkar added, " Even the Indian Butter Chicken is famous more than other spicy food from India as people globally are not accustomed to spicy foods like Indians and Chinese. Here comes the role of skilled chefs to adjust the traditional dishes so that people globally can easily accept them."
Understanding the Pillars
Flavours add life to any dish, but different corners of the world have different taste adaptability for several reasons. Anuj Sarkar unveils the perfect ways to make tradition accepted globally. Understanding the dish and for the clan you are making is vital for him.
Anuj Sarkar stated, " For instance while making spicy dishes from traditional chinese cuisine for London people we make sure to double check on both the poeple, in which taste they are acquired to and elements they won't be able to accept and then we make the dish accordingly without missing on essential element."
Customizing it Well
Customization of any recipe has different meanings to different people around, so it becomes tacky to do the same when it comes to dishes. According to the Head chef, Anuj Sarkar, anyone customizing dishes should retain the essence and authenticity of the recipe; although they can change the ratio with the tolerance of the people they are serving.
Balancing the Flavour
Balance is something that works for all the recipes for the chefs. As per the raising head chef Mr Sarkar, balancing the spices and all the elements makes the dish complete and gives a wholesome quality to the plate while customizing.
Leading the chef department in Turkey, the head chef is becoming a favourite cook amongst the Britishers and other residents of London. After a successful career in the hotel industry, this chef plans to open his restaurant soon.