What comes to mind when you hear 'side part wigs'? You are right if you think of wigs with parting on the side. In general, this wig is placed on the side of your head and made from different materials. It can be human hair or synthetic hair. It is versatile and can be styled in different ways.
Side part wigs also require less commitment; you wear them if you want to permanently change your hair. In addition, it is a great option if you are experiencing hair thinning (alopecia). As mentioned, they are available in different styles, and you only need to choose the most suitable for your needs and preferences.
Table of Content
How to Style a Luvme Hair Side Part Wig?
The benefit of wearing Luvme Hair side part wigs
How to Choose a Suitable Side Part Wig
How to Care for Side Part Wigs
Where to Buy a Side Part Wig
Conclusion
How to Style a Luvme Hair Side Part Wig?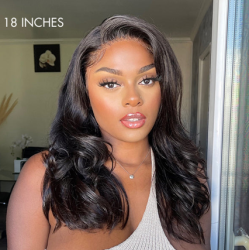 Now that you know there are many styling options you can enjoy with side part wigs. Below are a few ways to style them:
Identify the Wig's Position
After wearing your wig, the next thing is identifying where to place your side part. You can do this conveniently using a rat comb. Using the comb, you can part your hair into two parts (it does not have to be equal parts).
Moisturize your Wig
Ensure your wig is moisturized before styling; use a heat-protectant spray to protect the hair. The heat from styling tools can damage your hair. Even if your short wig is made from natural hair, you must protect it.
Use Hair Straightener
Use a curling iron or a straightener to smoothen and curl your wig. Do not rush the process; do it layer by layer to have a perfect-looking wig. Lastly, don't forget to use a heat protectant spray.
Benefits of Wearing Luvme Hair Side Part Wigs
Versatile Styling Options
You can choose from different styling options; elegant, edgy, sleek, and trendy. The decision is all yours; this makes it a suitable wig for women who want to change hair color, length, and style.
Easy Maintenance Process
It is easy to care for and maintain side part wigs. You only need to have hair products like conditioner and shampoo. Although, you need to ensure it does not contain harsh chemicals.
Comfortable to Wear
Side part wigs are designed so you can wear them with ease; it does not have any complications. They are breathable, and the material is light in weight.
Durable
Whether you choose a side part wig with synthetic or human hair, both materials are durable, although human hair last longer than synthetic hair. However, you will use either for a longer time with proper care.
Affordable
They are available at different prices, so you will find a wig suitable for your budget.
How to Choose a Suitable Side Part Wig
Hair Type
Before choosing a side part wig, consider the type of your hair. Only select a wig with curly hair if you have naturally curly hair. Also, if your hair type is straight, go for wigs with straight hair. The goal is to look natural, so your wig has to match your natural hair.
Face Shape
Different hairstyles work for different face shapes. The type of wig that will look better on someone with a round face might not be the same as someone with a square face. This also applies to face shapes like oval faces. Ensure you know your face shape and choose the most appropriate style.
Consider your Budget
Side part wigs are available at different prices, depending on the grade and style of the wig. However, you need to prepare yourself ahead by setting a budget. It will help you decide quickly.
Consider the Quality
Another important thing to consider is the material of your side part wig. It is either made from human hair, lace, or synthetic hair. Human hair wigs are pricier than others and offer a more natural appearance. On the other hand, synthetic hair is not too expensive; however, it does not offer a realistic appearance like human hair wigs. Another material you can consider is the lace wig; it is popular and offers a natural look.
Style
Side part wigs have many styling options, from short to medium-length and long hair, and also choose bangs, layers, or a ponytail.
How to Care for Side Part Wigs?
Wash your Wig
Wash at least once weekly using conditioners and shampoos free from harsh chemicals. Also, reduce the number of times you wash the wig to extend the service life.
Style Appropriately
Use heat styling tools when necessary, do not overheat, and use heat protectant sprays to minimize damage to the wig.
Proper Storage
Once you are done using your wig, store it appropriately in a cool, dry place. It must not be in contact with other items to prevent pulling.
Brush or Comb
Brushing your wig regularly helps detangles and remove any knots. Use the recommended wig comb or brush. Also, be careful while brushing and ensure you don't exert any pressure on the wig.
Keep it Dry Always
If your wig gets because of any reason, dry it instantly. You can air dry or blow dry; you should always air dry to protect your wig.
Avoid Harsh Chemicals
Do not attempt to dye or bleach your wig; these chemicals can damage your wig. However, if you want to change your wig color, contact the professionals.
Conclusion
This article explains a few things you need to know about side part wigs, the care process, how to style, and the benefits of these wigs. You can follow this guide to select a side part suitable for your needs and preferences. If you find it hard to find the right place to buy a wig, you can consider buying from Luvme Hair. This store offers different side part wig, glueless wigs and others like V part wigs and U part wigs. And the wigs are 100% made of human hair.