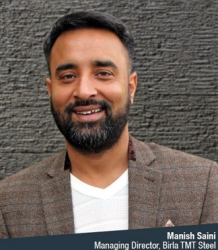 Manish Saini, an eminent name in the steel business is altering the course of the enterprise in creative ways than ever done before. His approach to Manufacturing TMT bars in an ethical environment has received accolades from people of all strata's alike. His Vision to create quality products and yet make them viable at the same time has ensured that TMT Bars brand of 'Birla TMT Steel' has secured a top spot in steel manufacturers in the country. His efforts has led the Birla TMT Steel to span across several states in India and raised its popularity enormously. All brands that he has ventured into so far have always been based upon the aim to benefit local communities by generating employment and adding end rewards to the Indian economy at large. Closely working with talents and brilliant minds from his home ground has made him a very people person and raised his popularity among the young workforce.
The brand already being a name that is synonymous with goodwill, creativity and the incorporation of young minds has well aligned with the goals of Manish Saini who is himself well known for his kind heartedness, apart from his steadfast decision making and practical thinking abilities. His exemplary management skills has made Birla TMT Steel a sought after work place where people are ensured creative growth along with a mindful team building and great work life balance. Tapping in on the human resource of the nation seems like a smart way to maximize the reach of the company needs and also help build a strong workforce that spans across the Indian sub-continent.
Recently featured in Forbes India for his philanthropic approach towards work and life in general Manish Saini has always maintained his drive to achieve what's best for his company and the nation at large. His vested interest in making home grown TMT steel at par with the leaders globally is simply remarkable. Notably apart from personally being a socially aware individual Manish Saini has worked closely with the CSR of Birla TMT Steel to make sure the quality of their products is maintained but not at the cost of the environment. His unwavering efforts on finding newer, better and sustainable methods of driving the steel business is remarkable and aids his everyday analytical thinking which then translates into business output for Birla TMT Steel. Integrating ideas acquired over his vast experience and never-ending thirst for knowledge has put him in a place that sets him apart from the likes of him in the business models today. He strives to work on excelling his business yet retaining family values and endeavors to strike the perfect harmony between both worlds. This Man is worth his value when it comes to a sustainable approach towards manufacturing steel in the future and yet keep abreast with everyday changes and still excel at what one does. One can take a leaf out of his book to find inspiration in the way he deals with life affairs in the most charming ways and still entail a power packed performance in his leadership in managing Birla TMT Steel. He opens up vistas for innovation and helps unlock the Pandora box of possibilities for the society that's worth laying a bet on.