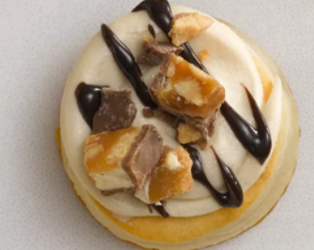 INGREDIENTS
Strawberry Filling:
½ c SNICKERS® Bars, ¼" chopped
1 c strawberry preserves
Peanut Butter Frosting:
1¼ c vanilla frosting
6 T peanut butter, no sugar added
4 lb biscuit dough, raw
Assembly for 1 Bite:
1 boca bite, baked and cooled
¼ T peanut butter frosting (above)
½ t chocolate sauce, to finish
½ t SNICKERS® Bars, ¼" chopped
DIRECTION
Strawberry Filling:
Mix strawberry preserves and chopped SNICKERS® Bars. Set aside.
Peanut Butter Frosting:
Combine vanilla frosting and peanut butter. Set aside.
Boca Bite Preparation:
Preheat oven to 350°F and prepare sheet trays with parchment paper lightly sprayed with oil.
Similar to preparation of raviolis, roll the biscuit dough into ⅛" thick long rectangle and brush with water.
Portion ½ teaspoon dollops of strawberry filling across one edge of the prepared dough and fold over the other half to seal the filling between 2 layers of dough
Cut out the boca bites with a 1.75″ ring cutter (discard excess dough or reserve for other uses) and place on prepared sheet trays.
Bake for 10 minutes. Remove boca bites and cool completely.
Assembled Bites:
Top each prepared boca bite with peanut butter frosting followed by a drizzle of chocolate sauce and additional chopped SNICKERS® Bars. Serve 2 bites per serving.