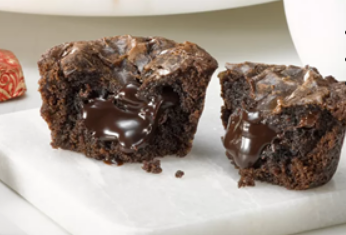 INGREDIENTS
1 box (25oz) fudge brownie batter, prepared
2 t TABASCO® Chipotle Sauce
1½ c GALAXY® FUSIONS, ¼" chopped
DIRECTION
Preheat oven to 350°F.
Add chipotle sauce into prepared brownie batter.
Spray a mini muffin pan with non-stick cooking spray.
Fill each cup one quarter of the way with the infused batter.
Top with 1¼ teaspoons of chopped GALAXY® FUSIONS. Push chocolate down slightly in the center. Cover each with the remaining batter.
Bake for 12-14 minutes. Do not overbake.
Remove from oven and let cool completely.
Serve 2 bites per serving.