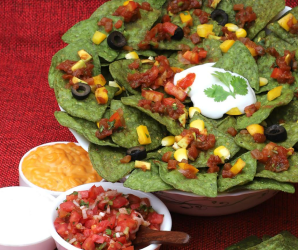 Ingredients
70gm / 1 packet – Cornitos Spinach Nacho Crisps
45gm – Boiled sweet corn
20gm – Sliced black olives
10gm – Chopped coriander
60ml – Sour cream                         
30gm – Diced yellow bell pepper
50 gm – Cornitos Chunky Salsa Dip (Hot)
100gm – Cornitos Cheesy Dip
Seasoning to taste
Method
Arrange Cornitos Spinach Nacho Crisps on a ceramic plate, overlapping one over the other.
Pour Cornitos Chunky Salsa Dip (Hot) slightly on every nacho crisp.
Top nacho crisps evenly with all the vegetables and sliced black olives.
Place a scoop of sour cream over the centre and garnish it with coriander.
Serve Nacho platter along with Cornitos Cheesy Dip.