Journey of Resilience, Multitasking, and Empowerment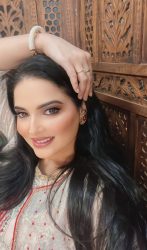 Shikha Shoken: A Beacon of 'Nari Shakti' Defying All Odds
In a world where the path to entrepreneurship is already a challenging one, women often face additional obstacles that test their determination and strength. Shikha Shoken's inspiring journey stands as a testament to unwavering determination and the embodiment of 'Nari Shakti,' as she defies all odds and carves her path to success.
A Multifaceted Journey
Hailing from Delhi, Shikha Shoken's journey is a remarkable example of the power of determination and pursuing one's dreams. With an MBA in Finance and a degree in dietetics from the YWCA, Shikha's academic foundation laid the groundwork for her diverse career. Recently completing an advanced makeup course at the Lakme Academy showcased her commitment to continuous learning and growth.
However, Shikha's journey extends beyond her academic achievements. She is not only a mother but also a producer and a businesswoman, effortlessly juggling roles across industries and continents. Her involvement in an agribusiness focused on wheat and bran import/export, along with financial consulting, highlights her exceptional versatility. Furthermore, her crucial contributions to her family's real estate and construction ventures in Canada underscore her wide-ranging capabilities.
Resilience and Multitasking Mastery
Shikha's distinguishing trait is her never-say-die attitude and her finesse in multitasking. The challenges of being a working woman, particularly one balancing the responsibilities of motherhood, failed to deter her. Instead, they fueled her determination. Shikha's journey is a testament to her resilience, unwavering passion, and unyielding dedication.
A Vision Beyond Boundaries
But Shikha's journey is far from over. Her vision reaches beyond her current accomplishments. She aspires to establish salons in both Canada and India, alongside curating an exclusive network of restaurants. Her ambitions stretch even further; her plans to invest in Bollywood films and other ventures underscore her forward-thinking mindset and her aspiration to create a profound impact.
Inspiring Through Social Media
In the era of social media, Shikha has amassed a substantial following on Instagram, showcasing her ability to connect and inspire others. Her forthcoming ventures, including her foray into the entertainment industry, hold the promise of further captivating and inspiring audiences.
Unleashing 'Nari Shakti'
Shikha Shoken's journey serves as a powerful reminder that 'Nari Shakti,' the power of women, transcends boundaries. Her ability to conquer diverse industries and manage myriad responsibilities is a wellspring of inspiration for individuals across the globe. Shikha's story transcends mere accomplishments; it is a testament to the boundless potential women possess when fueled by determination and the drive to transform dreams into reality.
A Beacon of Empowerment
As Shikha continues to thrive and sets her sights on new horizons, her journey stands as a beacon of hope and empowerment. It demonstrates that with determination and passion, women have the ability to break down barriers, shatter stereotypes, and redefine the very notion of success.
In a world often marked by challenges, Shikha Shoken's story is a testament to the indomitable spirit of women and their capacity to rise above adversity. Her journey illuminates the path for countless others, reminding us all that with determination and resilience, we can overcome any obstacle and create a lasting impact on the world around us.