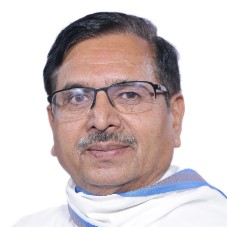 Shyam Singh Yadav is an Indian politician and a Member of Parliament (MP) from the Lok Sabha constituency of Jaunpur in the state of Uttar Pradesh. He is a member of the Bahujan Samaj Party (BSP). Before joining active politics, Shyam Singh had worked in various positions as a civil servant. He was also a sportsperson and had participated in various national and international shooting competitions.
The first major breakthrough in Shyam Singh Yadav's political career came in 2019 when he fought the Lok Sabha election on BSP ticket from Jaunpur. In 2019 Lok Sabha election in UP, opposition parties including BSP and Samajwadi Party (SP) had fought as an alliance. Although the alliance failed to win the targeted number of seats, Jaunpur was among the seats that the alliance did win. This seat was earlier held by Bharatiya Janata Party (BJP).
In 2019 Lok Sabha election from Jaunpur, Shyam Singh Yadav defeated his nearest rival Krishna Pratap Singh of BJP by a margin of more than 80k votes. Shyam Singh Yadav received 50.08% of the votes, whereas Krishna Pratap got 42.30% votes. In the previous 2014 Lok Sabha election from Jaunpur, Krishna Pratap had won by a margin of more than 1.45 lakh votes.
Jaunpur Lok Sabha seat is not a stronghold of any specific party. It has changed hands multiple times in the last few decades. For example, BSP had won it in 2009, Samajwadi Party in 2004 and BJP in 1999. Jaunpur Lok Sabha constituency comprises assembly constituencies of Badlapur, Shahganj, Jaunpur, Malhani and Mungra Badshahpur.
Early Life, Education and professional career
Shyam Singh Yadav was born on March 31, 1954 to Shri Uma Shankar Singh Yadav and Smt. Indrawati Yadav. He was born in Jaunpur, Uttar Pradesh. His educational qualifications include B.Sc., M.Sc., LL.B. and he had studied at University of Allahabad, Uttar Pradesh. He married Pushpa Yadav on March 11, 1986.
In his professional career, Shyam Singh Yadav has worked as municipal commissioner, special secretary, sub-divisional magistrate and vice chairman of various development authorities. He is also a professional shooter and had worked as a rifle shooting coach.
Political Career
2016 – 2019: Member, Advisory Board, Censor Board, Mumbai
May 2019: Elected to 17th Lok Sabha
13 Sept. 2019 onwards: Member, Standing Committee on Coal and Steel
16 Sept. 2019 onwards: Member, Joint Committee on Offices of Profit
09 Oct. 2019 – 15 Oct. 2020: Chairperson, Committee on Papers Laid on the Table; Member, Consultative Committee, Ministry of Petroleum and Natural Gas
21 Nov. 2019-8 Oct. 2020: Member, General Purposes Committee, Lok Sabha
13 Sept. 2020 onwards: Member, Standing Committee on Rural Development and Panchayati Raj
16 Sept. 2022 onwards: Member, Committee on Welfare of Other Backward Classes
Personal Pursuits
Shyam Singh Yadav has interests in sports. Apart from being an ace shooter, he had also participated in Himalayan Car Rally. He also has interest in music and movies.