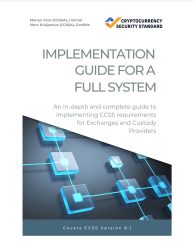 New Delhi / Dubai / New Zealand, September 11, 2023: In an era of rapid technological advancement, security, and compliance remain paramount concerns for businesses in the digital asset age. Addressing this problem, wallet infrastructure and custody solutions platform 'Liminal' has joined hands with Confide, a leading Cryptocurrency Security Standard Auditor (CCSSA) organization to launch a comprehensive e-book that provides guidance for exchanges and custody providers in implementing CCSS requirements.
Designed as a preparatory handbook for those just starting out on their CCSS journey, the "Implementation Guide for a Full System" is authored by CCSS auditors Marc Krisjanous and Manan Vora, with a foreword by Jessica Levesque. The e-book covers all CCSS aspects and requirements in detail, providing guidance on the policies, standards, and procedures required to achieve CCSS certification.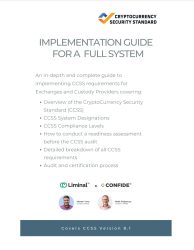 Both authors have engaged with businesses struggling to comprehend and apply CCSS, and the implementation guide addresses a significant gap in understanding, particularly in technical standards. Designed for Chief Information Security Officers (CISOs) and IT security professionals, it equips them with a clear understanding of CCSS requirements, empowering them to prepare for a successful CCSS audit.
Commenting on the development of the e-book, co-author Manan Vora, SVP of Strategy & Business Operations at Liminal and a certified CCSS auditor said, "While we have been deeply involved in CCSS standards for some time, putting together this book was an eye-opening experience. Translating complex technical concepts into accessible language was a challenge, but we recognized the importance of creating a resource that bridges the knowledge gap."
Co-author Marc Krisjanous, Senior Security Consultant at Confide expressing his delightment on the launch said, "We are excited to introduce this guide to the world at a time when cybersecurity and compliance have never been more critical. We hope that this e-book will empower businesses to elevate their security standards, strengthen their digital infrastructure, and navigate the complex landscape of CCSS with confidence."
"Implementation Guide for a Full System" is now available at:
https://www.lmnl.app/research/implementation-guide-for-a-full-system/