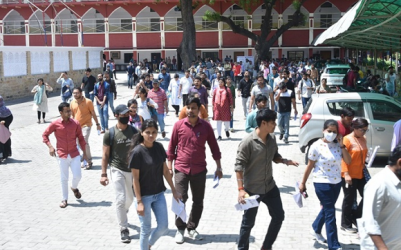 On 2nd April 2023, more than 26000 students across the country converged in over 170 cities ranging from Leh to Kanyakumari and Jamnagar to Kohima to participate in the annual VisionIAS's Abhyaas Prelims Test Series. The students put their knowledge, abilities, and efforts to evaluate their preparedness for the upcoming UPSC Civil Services Prelims Examination scheduled on 28th May 2023.
VisionIAS has demonstrated its institutional capabilities in delivering complex and challenging exercises such as Abhyaas Prelims with ease. Values like innovation, creative thinking, empathetic learning, inclusivity, integrity, and teamwork, build the base of the organizational values system.
The smooth and efficient completion of Abhyaas Prelims Test-1 at the pan-India level is a natural outcome of VisionIAS's continued adherence to these core organizational values, and their integration and reflection in its initiatives and ecosystem.
Within a short span of time, VisionIAS's Abhyaas Prelims Test Series has established itself as a benchmark of excellence in prelims preparedness assessment and exam readiness by providing them with a comprehensive and rigorous testing platform at their doorsteps.
Solving mock tests for UPSC prelims is essential for a candidate's success in the exam. It familiarizes them with exam patterns, assessment of strengths and shortcomings, and building confidence. This Test series not only helps candidates in the revision and retention of the syllabus but also assists in effective time management.
Abhyaas Prelims is an innovative solution by VisionIAS to simulate the UPSC Prelims exam-like environment and associated challenges that are experienced by students.
Abhyaas not only evaluates the student's knowledge and aptitude but also tests their mental and psychological readiness for the UPSC Prelims exam. The experience of appearing in a simulated exam can help students manage exam-related stress and anxiety, enabling them to perform better on the actual exam day.
The All-India Rankings provide students with their comparative standing among their peers which works as a motivating factor for further improvement in the upcoming tests. Through post-test analysis and live test discussions, students gain valuable insights into their preparation approach and validate its effectiveness. The dedicated and high-end mentoring ecosystem provides customized and workable solutions to students' doubts and queries related to preparation.
The environment across Test Centres in the entire country closely resembled that of the UPSC Prelims examination with students coming to Test Centres from distant places and neighboring areas. Parents also accompanied students and waited for the completion of the exam. The parents providing motivation and emotional support to the students before and after the exam was a heartwarming sight to witness.
Post-test, students shared their experience of the Abhyaas Test-1. Those with prior experience of writing the UPSC CSE Prelims testified to the similarities between the actual USPC exam and Abhyaas in terms of the environment in the exam hall, administrative arrangements and procedures at the test centers, and the nature of questions in the paper..
While fresh aspirants reflected that the Abhyaas experience had filled them with confidence to take up the UPSC Prelims exam as the fear of the unknown was removed from their mind. Also, they realized the significance of holistic preparation with adequate attention on all the Papers and subjects.
Abhyaas CSAT paper acted as a timely wake-up call for those students who had lost complete touch with the CSAT preparation as they struggled hard to perform well in it  within allocated time. Students appearing in Abhyaas Prelims Test-1, were particularly fascinated about having tested their preparation strategies, problem solving skills, and time management.
The result of the Abhyaas Prelims Test 1 is scheduled to be declared on 6th April 2023, at 10:00 PM on the Vision IAS website. Following this, a series of test discussions for both Papers I & II will be scheduled from 7th April to 10th April 2023 for English and Hindi medium students separately.
The upcoming tests under Abhyaas Test Series are scheduled for 23rd April and 7th May respectively. This schedule is strategically determined to enable students to assess their level of preparation at regular intervals with ample time to improve on their shortcomings and build on their strengths.  This enables students to not only assess their knowledge and skills but also their mental and psychological resilience, thus improving their exam readiness.
A comprehensive technology-driven learning ecosystem at VisionIAS has assisted thousands of aspirants across India to achieve their dream of joining prestigious Indian Civil services. This ecosystem includes student-friendly classroom programs, an innovative assessment system, and a dynamic and multi-dimensional mentoring program.
VisionIAS firmly believes in the innate potential of each student to achieve great accomplishments. The Abhyaas Test Series is the reflection of the same belief which aims to unleash the potential of students so that the nation rises to the highest level of endeavor and achievement.
Visit us at:
www.visionias.in/abhyaas
Or Call us at: 8468022022, 9019066066