"I Hope Warriors Inspires The Indian Cricket Team To Bring The Cup Home" – Tavei Media's K Phanindra Kumar On His Independent World Cup Anthem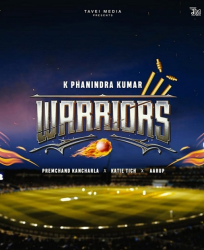 The 2023 Cricket World Cup shall start from October 5 and go on till November 19. There is, quite naturally, a lot of excitement for the World Cup and fans are keenly looking forward to witness it in the coming months. Tenali's Tavei Media, the new-age music label owned by K Phanindra Kumar, has now come up with an independent world cup cricket anthem to encourage and boost the morale of the Men in Blue. While the anthem is scheduled to release on August 6 2023, one can pre-order it from iTunes or Apple Music from July 9.
Talking about the inception of this anthem, K Phanindra Kumar says, "As a music label, Tavei Media is known to come up with all kinds of music. We also make it a point to create the kind of songs that resonate with the cultural ethos and emotional sensibilities of the people in our country. At the moment, everybody is looking forward to the Cricket World Cup that is scheduled to happen this year. Just like everybody else in our country, I am also a huge cricket fan. This Cricket World Cup Anthem, that we at Tavei Media have created independently, is our ode to our cricketing heroes. I hope Warriors inspires them to bring the cup home'.
Apart from producing and publishing 'Warriors', K Phanindra Kumar has also written the lyrics for it. Kumar is quite thrilled about the fact that he managed to bring some of the best musical talent in the country to put together this anthem. The energetic track has been composed by Premchand Kancharla who is known for his stellar work on several successful projects including the Tamannaah Bhatia starrer Disney+Hotstar series 'November Story'. Some of the artists that feature on the track are Katie Tich, Aarup, Neha Singha, Fathima Henna, Haston Rodriguez.
"Though Tavei Media has been in the music publishing business for a while, this has been the most special track which we have worked on. Apart from inspiring our cricketers, I hope it also instills a sense of pride in our countrymen as well. We had a wonderful team on board and that made the process of creating the track all the more special. The track boasts of some high-energy percussive beats by Karthik Vamsi (KVR) and has been mixed and mastered by B Thiruvengadam who is known for his work on several notable films including 'Vikram Vedha'."
'Warriors' has been made keeping in mind the kind of love Indians have for cricket. The World Cup tournament is a very important event for everybody who follows the game religiously. With the way this anthem has been designed, it should serve as a good build-up to the main event that takes place towards the latter half of the year. Tavei Media has several other important projects lined up for this year which will be announced soon. https://umw.lnk.to/Warriors
YouTube link: https://youtube.com/@kphanindrakumar
Instagram link: https://instagram.com/kphanik28