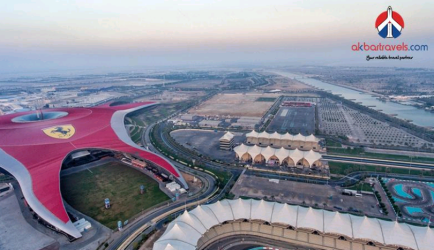 When planning your next vacation, there are countless destinations to choose from. However, if you're looking for a place that offers a unique blend of excitement, relaxation, and culture, Yas Island in Abu Dhabi is the place you must visit at least once. In this article, we'll explore why Yas Island is a must-visit destination and how you can make the most of your trip with Yas Island packages and Abu Dhabi tour packages.
A Place where Thrills and Tranquillity Converge
Located in the heart of Abu Dhabi, United Arab Emirates, Yas Island is the ultimate destination that attracts visitors from every nook and corner of the world. Whether you're an adventure seeker, a history buff, a shopaholic, or someone looking for a relaxing getaway, Yas Island has something for everyone. It is a leisure paradise where entertainment never ends.
The Gateway to Adventure
If you're an adventure lover, Yas Island will not disappoint you. One of the standout attractions on the island is the Ferrari World Abu Dhabi, 002world's first Ferrari-branded theme park. Here, you can experience the thrill of Formula 1 racing, ride the world's fastest roller coaster, and explore the fascinating world of Ferrari.
For water enthusiasts, Yas Waterworld offers an array of water rides and attractions that entertain visitors of all ages. Whether you enjoy the high-speed waterslides or float along the lazy river, you'll find endless fun under the sun with a Yas Island package that covers the best of everything.
A Cultural Oasis
While Yas Island is famous for its exhilarating experiences, it also offers a glimpse into the rich culture and history of Abu Dhabi. The stunning Sheikh Zayed Grand Mosque, one of the largest mosques in the world, is just a short drive away from Yas Island. Its one-of-a-kind architecture and intricate design will leave you spellbound, showcasing the impeccable craftsmanship of the region.
Yas Island, Abu Dhabi is also home to Yas Marina Circuit, which hosts the Abu Dhabi Grand Prix. Even if you're not a die-hard Formula 1 fan, the circuit offers guided tours that provide fascinating insights into the world of motorsport and the history of the Abu Dhabi Grand Prix.
Retail Therapy and Dining Delights
Shopaholics and food enthusiasts will find themselves in paradise on Yas Island. Yas Mall boasts over 400 retail outlets, offering everything from high-end fashion to unique souvenirs. After a day of shopping, you can savour a wide range of international cuisines at the island's numerous restaurants and cafes.
Explore beyond Yas Island
While Yas Island is undoubtedly a gem, exploring the broader Abu Dhabi region adds depth to your vacation experience. Abu Dhabi tour packages often include visits to iconic landmarks such as the Louvre Abu Dhabi, the stunning Corniche Beach, and the Heritage Village, where you can learn about the UAE's heritage and traditions.
Plan your Yas Island Adventure
To make the most of your visit to Abu Dhabi, consider booking Yas Island packages from reputable travel agencies like Akbar Travels. These packages often include affordable flight tickets, accommodations, guided tours, and exclusive access to attractions, making your vacation seamless and memorable.
In conclusion
Yas Island is more than just a vacation spot. It's an experience that combines adventure, culture, and relaxation. Whether you're traveling with family, friends, or solo, Yas Island has something for everyone. So, book your Yas Island package, pack your bags, and gear up for an unforgettable vacation in this remarkable destination. Abu Dhabi tour packages from Akbartravels.com will help you explore the broader region, ensuring your trip is a well-rounded adventure filled with memories that will last a lifetime.