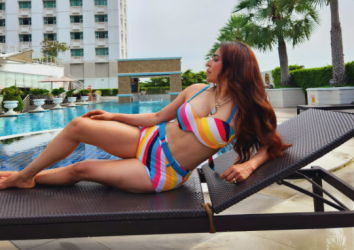 Renowned actress Nikita Rawal has left her fans awestruck with her latest sizzling photoshoot that showcases her beauty, confidence, and fitness. The stunning actress recently posed for a captivating photo shoot next to a massive swimming pool, exuding elegance and charm.
In the photos, Nikita Rawal mesmerizes viewers with her impeccable style and flawless physique. Wearing a bikini that perfectly complements her figure, she radiates confidence and grace. Her captivating smile and poise add an extra allure to the shots, captivating the audience's attention.
Nikita Rawal, known for her versatility and on-screen presence, has once again proved her ability to captivate hearts with her stunning looks and magnetic personality. With each new project, she continues to establish herself as a prominent figure in the entertainment industry.
The recent photoshoot not only showcases Nikita Rawal's beauty but also highlights her dedication to maintaining a fit and healthy lifestyle. Her fitness regimen and commitment to staying in shape are evident in the images, inspiring her fans to prioritize their well-being.
Nikita Rawal's latest photoshoot has already created a buzz on social media, with fans and followers expressing their admiration for her beauty and style. Her ability to effortlessly command attention in front of the camera is a testament to her talent and professional prowess.