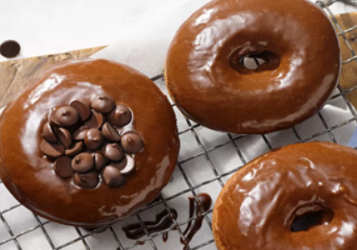 Ingredients
Donuts
3½ cups all-purpose flour
1 cup sugar
½ teaspoon baking soda
2 teaspoons baking powder
1 teaspoon salt
1½ teaspoon ground nutmeg
¾ cup buttermilk
4 tablespoons unsalted butter, melted
2 eggs
1 egg yolk
Chocolate Glaze
1 cup chopped GALAXY® FUSIONS Chocolate
2 cups confectioners' sugar, sifted
1 tablespoon light corn syrup
½ cup unsalted butter
¼ cup whole milk, warmed
2 teaspoons vanilla extract
Direction
Donuts
Preheat fryer to 375°F.
Combine 1 cup of flour, sugar, baking soda, baking powder, and salt. Set aside. In separate bowl, combine buttermilk, butter, and eggs.
In a mixing bowl, add wet ingredients to the dry and mix well. Add remaining flour and mix until just combined. Turn dough onto floured work surface. Roll with floured rolling pin to 1-inch thick.
Stamp out dough rings with floured doughnut cutter, re-flouring between cuts.
Carefully drop dough rings into fryer, four or five at a time, depending on fryer size. Turn doughnuts as they rise to surface with a slotted spoon. Fry doughnuts until golden brown, about 50 seconds per side.
Drain on paper towel-lined pan or wire rack. Repeat frying, returning fat to temperature between each batch.
Chocolate Glaze
Combine butter, milk, corn syrup, and vanilla in saucepan and heat over medium heat until butter is melted.
Decrease the heat to low, add 1/2 cup of chopped GALAXY® FUSIONS Chocolate and whisk until melted.
Remove chocolate mixture from heat. Using a hand mixer slowly add powdered sugar and beat until smooth.
Place chocolate glaze over a bowl of warm water and dip the doughnuts immediately. Allow glaze to set for 30 minutes before serving.
Assembly
Top glazed donut rings with remaining chopped GALAXY® FUSIONS Chocolate and serve.