: 4-6 people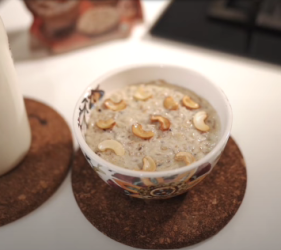 Ingredients:
½ cup Quaker Oats Multigrain
1 ½ cup Skim Milk
½ cup Sugar (Optional)
½ cup Ghee (Optional)
Cashews ~ as desired
1 pinch Cardamom Powder
Preparation:
Roast cashew nuts till golden and set them aside.
To the same pan, add Quaker Oats Multigrain. Toast and roast them till they're golden. Then pour milk and mix.
Cook until it turns thick. Then add cardamom powder and sugar (optional). Mix until it dissolves.
Pour a little ghee (optional) and stir. Transfer Oats Payasam in a serving bowl.
Garnish with Cashew Nuts. Serve hot or warm!
by Pearle Maaney