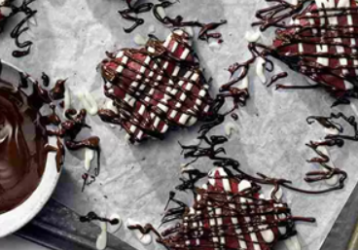 INGREDIENTS
Red Velvet Chocolate Chip Brownies
¾ cup + ½ cup GALAXY® FUSIONS
2 sticks unsalted butter
2 cups sugar
2 teaspoons vanilla extract
½ cup unsweetened cocoa powder
1/8 teaspoon salt
Food-grade red color
2 teaspoons white vinegar
4 eggs
1½ cups all-purpose flour
Cream Cheese Drizzle
2 ounces cream cheese, softened
1 tablespoon unsalted butter, softened
½ cup confectioners sugar
¼ teaspoon vanilla extract
2 tablespoons heavy cream
DIRECTION
Red Velvet Chocolate Chip Brownies
Preheat oven to 325°F and spray a 9X13 pan with non-stick cooking spray.
Melt butter and pour into the stand mixer. Add sugar and mix.
In the following order, add vanilla extract, cocoa powder, salt, food-grade red color, and vinegar to the creamed butter and sugar mixture.
In a separate bowl whisk eggs together and slowly pour into the chocolate mixture.
Slowly add in the flour, mixing until fully combined.
Gently fold in ¾ cup GALAXY® FUSIONS.
Pour batter into prepared pan and bake for approximately 30 minutes or until internal temperature reaches 180°F.
Melt remaining GALAXY® FUSIONS. Set aside.
Cream Cheese Drizzle
Whisk together all ingredients. Set aside.
Assembly
Slice brownies when cool and drizzle with cream cheese sauce and melted GALAXY® FUSIONS . Serve.
Link: