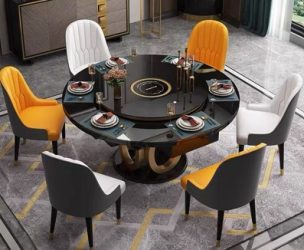 Blue Ribbon, the company that operates Shopps.in, India's leading home decor and premium decorative product store, is proud to announce that its online store has been named Best Dining Tables Online store by Review Foundation India.
This award is a testament to Shopps.in's commitment to providing customers with a wide selection of dining tables to fit any budget and style. The store offers a variety of styles, sizes, and finishes from leading furniture brands from around the world.
"We are thrilled to receive this award," said Blue Ribbon CEO and Founder, Harish Kumar. "At Shopps.in, we strive to bring customers the best selection of dining tables so that they can find the perfect piece to fit their home. We're proud to be recognized for the quality of our products and for our commitment to providing excellent customer service."
Shopps.in's selection of dining tables includes options for traditional, modern, and contemporary spaces. Customers can browse the store's selection of dining tables and make their purchase online with the convenience of all-India home delivery.
Shopps.in is the premier destination for home decor furniture, offering premium decorative products that add style and sophistication to any space. The store offers a wide selection of furniture, accessories, lighting, and rugs from leading brands from around the world. Customers can find everything they need to create the perfect ambience for their home.
For more information about Shopps.in, visit www.shopps.in.