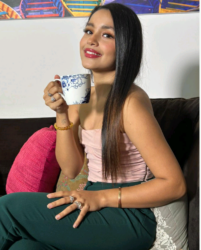 As long as you have to give slips to people, understand that there is a need to work hard, after getting success, people will recognize you themselves.
One can move forward on the path of success only by facing challenges. As long as people ask for your introduction and they have to tell, then understand that there is a need to work hard now. Move forward with full enthusiasm and hard work to climb the ladder of success. Influencer Shivangi Sharma aka Shiivanggii on Instagram is doing something similar, these days she is hosting the gossip show Tea With Shii. This is a podcast that includes celebrities from India and abroad in the show and it is streamed on YouTube.
Shivangi says that many people think that becoming an influencer is an easy journey, although it is quite the opposite. This journey is full of hard work.
Shivangi told that in the beginning it was difficult to explain to my father what it is and how it is done. However, when they saw my dedication, skills and people's response, they gradually understood and supported me. Another challenge was people being judgmental. He told that I had to face constant criticisms. I used to feel bad in the beginning but don't care now because I know I am not doing anything wrong.
Shivangi says work hard till you don't need to introduce yourself because people know you for you. She has big dreams and her enthusiasm to fulfill them is even bigger. Shivangi told that she wants to become a Bollywood actress. She told that she wants to work with Alia and Ranveer. Shivangi says never lose hope, things will come to you when the right time comes.
She is on Instagram as @shiivanggii