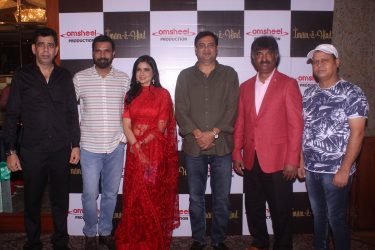 On the special Urus occasion marking the 1235 years of Hazrat Peer Noor Satgur baba, badi Dargah, Navsari.
Amitabh Bachchan, Salman Khan starrer film God Tusi Great Ho director Rumi Jaffery
, actor Rakesh Bedi launched the soulful and Sufi song "Imam-e-Hind" by Dolly Tomar, Rajneesh Dubey and producer Khurram Syed at an event in Mumbai launched in grand ceremony. This song is released by DK Omsheel Productions USA and Omsheel Production. Here this devotional song was shown which was liked by all.
Chief guest writer director Rumi Jaffery said that I congratulate producer Khurram Syed, actor director Rajneesh Dubey and actress Dolly Tomar for Imam-e-Hind. Our country has a great tradition of Sufi saints and through this album the same tradition has been taken forward. This is a song that soothes the heart and soul.
Director Rajneesh Dubey told that this soulful song has been shot at Hazrat Peer Noor Satgur Baba's Badi Dargah in Navsari, Gujarat. In this video, apart from me, the names of Dolly Tomar and Monty Saiyed are worth mentioning.
Dolly Tomar said that the experience of shooting this song was very impactful and memorable for all of us. I got a chance to know and understand a lot about Islam. At the same time, the depth and greatness of the Ganga Jamuna culture of the country was realized. I also thank Rumi Jaffery that such a great writer director came to our music launch event and also gave his valuable opinion.
Significantly, Omsheel Production is an Indian production house that produces films, web series, documentary films and also has a branch in the US, named DK Omsheel Production. Its leaders are Dolly Tomar and Khurram Syed.
Dolly Tomar further added that Omsheel Production is also coming up with a feature film "Pyaari Tarawali The True Story" this year after this Sufi song, which will be released in theatres. Based on a novel, this film has been shot in Madhya Pradesh, written and directed by Rajneesh Dubey.
The album is produced by Khurram Syed, Dolly Tomar, co-produced by Ansar A Mohammad and Monty Saiyed. Syed Layeeq Ahmed and Rehman Ali were also present here as guests.
On this occasion, a poetry recital session was also held here in which Deepti Mishra, Nazar Bijnori, Rakesh Bedi and Altamash Abbas recited their poetry, organised by Nazar Bijnoriji, Hum Fest in association with Omsheel Production.
DOP. P John Viji, Creative Head Kaviraa Arjun and Associate Director Devu Namdev from the production team were present.