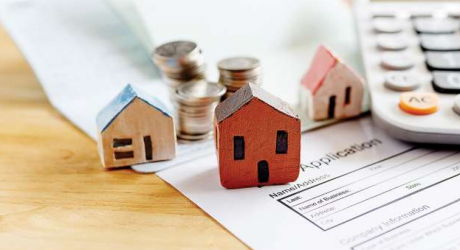 Building or purchasing a home can be a daunting task as it involves several considerations, many of which must be planned well in advance. For prospective homeowners in India, the most significant concern is often the substantial financial investment required to construct or buy a property.
While many Indians invest their savings in purchasing or renovating a home, they may still fall short of the necessary funds. In such cases, Home Loans can be a suitable solution. Moreover, securing a housing loan in India has become much simpler in recent years.
Previously, applicants had to visit a bank office, undergo KYC and credit checks, and wait for approval. However, now one can easily apply for a home loan with just a few clicks online, submit a few essential documents, and wait for the bank to complete the remaining necessary checks.
In this article, we will guide you through everything you need to know about home loans up to Rs 75 lakh.
How To Apply For Home Loans Up To Rs. 75 Lakhs
Applying for a home loan for Rs 75 lakh can be done by visiting the relevant lender's website and following the steps outlined below:
Select "Home Loan" from the list of loans.
Select the "Apply Online" option. You will be directed to a website where you must enter your name, mailing location, email address, contact phone number, and PAN.
On your cell number, you'll get an OTP.
Enter the OTP to confirm.
Select the loan's value and term. You'll be taken to another website where you must enter your job, salary, and property information.
To finish the web registration procedure, the 'Submit' option must be clicked.
You will be contacted by an employee of the relevant bank or financial organisation for additional help. The agent will also pick up the papers from your contact location.
Eligibility Requirements For Home Loans Up To Rs. 75 Lakhs
The usual eligibility requirements for home loans up to Rs 75 Lakh are as follows:
If applying as a salaried person, the candidate should fall between the ages of 21 and 60 or 21 and 65 if applying as a self-employed person.
The required minimal annual revenue will range from Rs 25000 to Rs 30000.
The ideal debt-to-income ratio is 40% to 50%.
The minimal credit score ranges from 650 to 750.
The credit is open to both Indian citizens and non-residents.
Important Documents For Home Loans Up To Rs 75 Lakh
You must send the following paperwork with your home loan application to be eligible for a house loan of up to Rs 75 lakh:
KYC records
Card Aadhar
Passport
PAN
Driving Permit
Income records for those who are employed
Pay stubs from the previous three months
Current Form 16
Current ITR
Statement of recent six-month bank accounts
Income tax returns for independent contractors
Financial records that have been audited for the past two years, such as the profit and loss account and balance sheet
ITR for the previous two years
Statement of bank accounts for the previous 12 months.
Property records (copies to be submitted)
Deed of Sale
Contract of Sale
Holding Certificate
Latest receipt for property taxes paid
Proof of encumbrance for the previous 13 years
Factors That Affect The Rs 75 Lakh Home Loan EMI
The factors that impact the Rs 75 lakh home loan EMI are:
Income: People working for federal, state, or local governments or the public sector are assured of a salary. These borrowers will thus pay relatively reduced interest rates, resulting in cheaper overall credit costs.
Interest rate: If you selected a fixed interest rate, your interest payment would be between 1% and 2% more than if you had selected a variable interest rate.
LTV Ratio: The LTV Ratio affects the interest rate that is applied. Banks typically offer home loans for 75% to 90% of the property's market worth. The greater the margin, the smaller will be the interest rate, as the potential for loss is smaller for the lender. The EMI will decrease if the interest rate is cheaper too.
Duration: An increased EMI will result from an extended term and vice versa.
Techniques To Reduce The EMI For Rs. 75 Lakh Home Loan
The EMI does not have to remain at the same amount as when the debt was first obtained. Thus, you can decrease the 75 lakh home loan EMI and subsequent debt costs in several methods. This includes:
Implementation Of An Improved Debt Rate System
According to RBI rules, the interest rate system is constantly transforming. It might be the MCLR, BPLR, Base Rate, or EBR.
As you can see, BPLR charges an interest rate significantly greater than the other interest cost structures, with EBR charging the lowest interest rate.
Make The Step-Down EMI Choice.
You can choose the step-down EMI choice if you are a young person who has just begun your job. In this case, the EMI would be originally made greater and progressively decreased over time.
As a result, you'll be able to pay less interest during the first few years when the capital is falling off quickly. The demand will decrease in line with that.
Change The Interest Rate On Your Loan From Set To A Variable.
A set interest rate typically costs more than a variable interest rate. The set EMI is a benefit of selecting a fixed interest rate.
Furthermore, it will aid in managing the money needed for the long-term EMI payment. You won't frequently be caught off guard when the EMI unexpectedly rises in response to an increase in the interest rate.
Transfer The Outstanding Amount Of Your Mortgage To A New Provider With A Lower Interest Rate.
You can move the outstanding Home Loan amount to a provider who provides a loan at a reasonable interest rate. This is possible if you did not compare interest rates when initially filing for it and later discovered that you are paying a greater interest rate. This will ease the weight of your EMIs.
Conclusion
In conclusion, many people consider owning a house a significant life objective. There are many Indians who are willing to spend anything necessary to realise this goal. Although purchasing a property is a very costly expenditure, it is possible to opt for a housing loan in India up to Rs 75 Lakh.