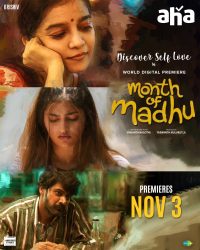 Get ready to embark on a captivating journey through the intricacies of modern relationships with aha's upcoming release, "Month of Madhu," on November 3rd. This engaging film features a talented cast, including Swathi Reddy, Naveen Chandra, Shreya Navile, Gnaneswari Kandregula, Raja Chembolu, Manjula Ghattamaneni, Harsha Chemudu, and more, under the skilful direction of Srikanth Nagothi and produced by Yaswanth Mulukutla.
"Month of Madhu" takes the audience through a relatable yet intriguing storyline. After two decades of marriage, Lekha (Swathi Reddy) separates from her husband, Madhusudhan Rao (Naveen Chandra). Simultaneously, an NRI teenager named Madhumitha (Shreya Navile) arrives in Vizag to attend her cousin's wedding, setting the stage for unexpected events. Madhumitha inadvertently crosses paths with Madhusudhan and becomes intricately involved in his personal life.
As the story unfolds, viewers are presented with questions that delve into the complexities of love and relationships. Will Madhumitha's presence mend the relationship between Lekha and Madhusudhan, or will it push them further apart? What circumstances led Lekha to contemplate separating from Madhu? In the midst of it all, what choice will Lekha ultimately make? "Month of Madhu" holds the answers to these thought-provoking questions.
"Month of Madhu" is set to redefine modern love and relationships on the big screen, offering a unique blend of laughter, emotions, and unforgettable moments. Don't miss this relatable and heartwarming tale that is bound to resonate with audiences on aha on November 3rd.