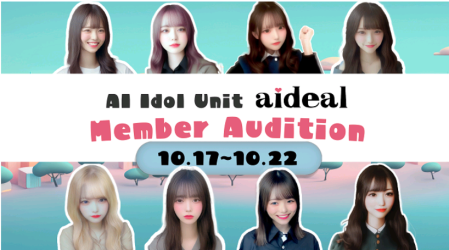 AI Idols, created with Generative AI technology, are virtual entities. Integrating this technology into the 3DCG production process significantly cuts down both time and costs compared to traditional methods.
The name of the first AI Idol unit is "aideal", a coined word combining the words "ideal" and "AI", with the wish to "create the ideal idol for everyone". In order to bring aideal closer to the ideals of as many people as possible, we have decided to hold auditions to determine the members of aideal.
We initiated the audition in Japan on October 11 and are excited to announce that we are broadening its scope to include participants from various countries around the world. Starting on the 17th, we will commence global auditions.
Selections will be held in the form of voting via a special website. During the voting period, content focusing on each of the eight candidates will be published on Official X(@Paradigm_AI). The top five candidates with the highest number of votes will be selected as members of aideal.
Aideal's debut music video, featuring the newly selected members from our auditions, will be released in November. Stay tuned!
Details
Voting Deadline: October 22nd (Sun), 23:59 PM JST
Announcement of Results: October 24th (Tue)
Judging Criteria: The top 5 candidates will be selected based on the total number of votes on the special website.
Official X(Twitter): @Paradigm_AI
Voting Website: https://event.paradigmai.co.jp/en
Note: Dates and times are subject to change without notice.
About Paradigm AI Inc.
Paradigm AI Inc. creates 3D virtual humans using generative AI technology.
Japanese idol culture has an appeal as entertainment that transcends national borders, enthusing and moving people emotionally. We respect the traditional Japanese idol culture, and will use technology to further spread this appeal to the world.
We are open to opportunities for serving as PR models, collaborations, and interview requests.
Please contact us at the email address below.
Source: Paradigm AI Inc.
Contact:
Taiyo Yoshida
Chief Executive Officer
Paradigm AI Inc.
Tel: +81-70-4329-5971
Email: contact@paradigmai.co.jp
HP: https://paradigmai.co.jp