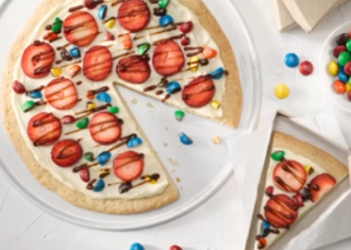 Ingredients
Cream Cheese Spread:
·         8 oz cream cheese
·         ½ T vanilla extract
·         1 c powdered sugar
·         1 T whole milk
Dessert Pizza:
·         2 T M&M'S® Milk Chocolate Candies, ¼" chopped
·         8 oz sugar cookie dough, prepared
10-11 strawberries, sliced
½ T chocolate sauce, prepared
Direction
Cream Cheese Spread:
Mix all ingredients and combine until smooth. Spread can be made in advance and stored refrigerated until assembly of the dessert pizza.
Assembled Dessert Pizza:
Preheat oven to 350°F.
Prepare sheet trays for baking by lining with parchment paper lightly sprayed with oil.
Roll out cookie dough to a 9″ round.
Bake for 10-12 mins until golden brown.
Cool completely before assembling dessert pizza.
To assemble, spread prepared cream cheese spread onto cookie, leaving about a 1" edge around the outside.
Scatter sliced strawberries, chopped M&M'S® Milk Chocolate Candies and drizzle with chocolate sauce.
Serve as shareable dessert pizza or in individual to-go pizza containers.