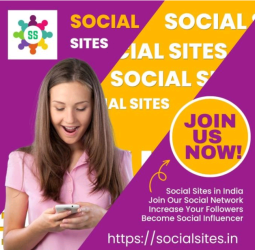 Social Sites provides users with information and knowledge related to social networking sites.
Kolkata — https://i.imgur.com/8KsjxBZ.png  Social Sites, a new website dedicated to providing users with the best information and knowledge related to social networking sites, has officially launched in India. The website is aimed at helping users navigate the complex world of social media with detailed information on the latest trends, best practices, and tips for staying safe online.
With social media becoming an integral part of daily lives, Social Sites aims to be the go-to resource for all things related to social networking. The website provides in-depth reviews of popular social networking sites like Facebook, Twitter, Instagram, LinkedIn, and more free social media site, as well as information on new and upcoming platforms.
"We are thrilled to launch Social Sites and provide users with the most up-to-date information on social networking sites," said Biswajit Barman, founder of Social Sites. "Our goal is to help users make informed decisions about their online presence and stay safe while using social media."
In addition to reviews and information on social networking sites, Social Sites also offer tips and tutorials on how to optimize your social media presence, build a strong brand, and engage with your audience. The website also features articles on the latest social media trends and news, making it a one-stop shop for all things social media.
"Social Sites in India is more than just a website – it's a community of like-minded individuals who are passionate about social media," Barman added. "We encourage users to connect with us on our social media channels and join the conversation."
Social Sites is committed to providing accurate and reliable information to its users.
The website's team of experts regularly updates the content to ensure the information is current and relevant. Users can also submit their questions and suggestions to the Social Sites team, who will respond promptly.
For more information, visit the Social Sites website at https://socialsites.in or contact Biswajit Barman at contact@socialsites.in.