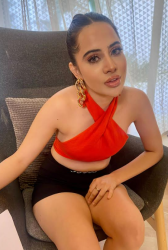 Stories have the power to not only entertain but some have the power to leave a lasting impact on people's lives. One such tale is that of Pocket FM's blockbuster audio series Insta Millionaire. The audio series has created quite the buzz for its inspiring storyline. Recently, actor Rohan Mehra and social media sensation Uorfi Javed recently came together for the promo shoot of Insta Millionaire, who were excited to be associated with the super hit audio series.
The duo took on the role of Lucky and Dimple, a couple with contrasting priorities, in the promo, leaving everyone pleasantly surprised. Their chemistry and performances have been the talk of the town. Talking about the same, Rohan Mehra shared his experience of working with Uorfi and how he connects with the story.
He said, "Shooting the Insta Millionaire promo was amazing! The story is quite moving and Lucky's journey in the audio series is quite commendable and one that a lot of youngsters can seek inspiration from. Making dreams come true is something we all strive for, and Pocket FM's Insta Millionaire captures that journey perfectly. Collaborating with Uorfi Javed for the first time was a great experience. She is quite committed and dedicated to work."
The promo reveals that Lucky is deeply in love with Dimple, while she is solely driven by her pursuit of wealth. Their supposedly romantic journey takes an unexpected turn when a significant revelation comes to light, completely changing the course of their relationship.
Insta Millionaire tells the story of Lucky, a determined young man who overcomes adversity to build a successful life. Despite a heart-wrenching betrayal by his girlfriend, Lucky remains resilient and committed to his journey. However, when he receives a life-altering message, he faces new challenges. Will he let wealth change him or stay true to his values? Can he find happiness and love? Find out further about the journey of Lucky in the series Insta Millionaire
With over 900 episodes and an impressive 300 million plays, this captivating series has captured the world's attention, accumulating over 3.5 billion listening minutes across English, Hindi, and Tamil.
Watch what Lucky has to say: https://youtu.be/ehkEZ-rNZEs